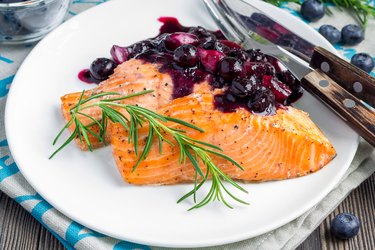 They may be small in size, but blueberries are a super source of nutritional goodness. Just a single cup contains 16 percent of the recommended daily intake of vitamin C as well as inflammation-reducing antioxidants.
These antioxidants, also known as flavonoids, are linked to heart and brain health — and quercetin, a specific antioxidant found in blueberries, is also tied to treating metabolic and inflammatory disorders, according to extensive July 2016 research in ​‌Pharmacognosy Review‌.
Blueberries are also packed with manganese, a mineral that aids protein and amino acid digestion, as well as fiber, which help keep us full and improves gut health, says Kimberly Bowman, a sports nutritionist for F45 Training.
With all of these perks, blueberries deserve to do more than stud pancakes or top parfaits. Consider these savory blueberry recipes as noble options for dinner.
1. Blueberry Broccoli Spinach Salad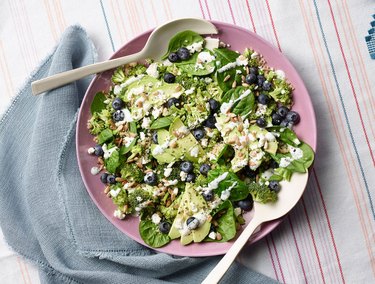 Maybe you've never paired blueberries and broccoli, but you'll soon discover they're the perfect match. In addition to these two superfoods, the recipe also calls for creamy smashed avocado. All together, the ingredients create a nutritious meal, which includes iron, vitamin C, folate and magnesium and probiotics, Bowman says. This dish contains 6 grams of protein for every one-cup serving, so for a more substantial meal, you could eat at least two cups for 12 grams of protein and only 200 calories.
2. Salmon Sliders With Blueberry Slaw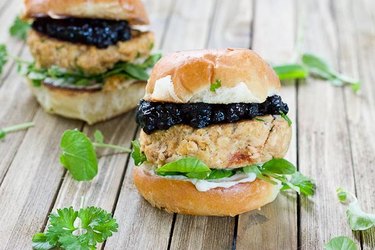 Salmon is a lean source of quality protein and provides a rich source of omega-3 fatty acids, which are essential for brain health, Bowman says. "Topping these sliders off with a simple antioxidant-rich blueberry and cabbage slaw enhances the flavor while adding a source of dietary fiber to promote healthy digestion," she says. And what's more, this recipe offers 37 grams of protein — making it a hearty, nutritionally sound dinner option.
3. Blueberry and Goat Cheese Hand Pies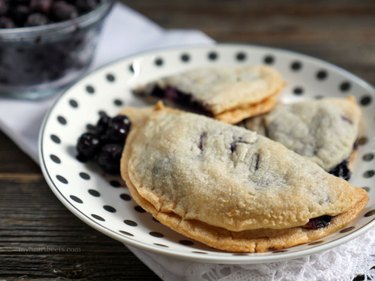 For a lunch that's both portable and good for you, these blueberry goat cheese pies offer everything you need. They're made gluten-free with an almond and tapioca flour crust, and they incorporate natural sweetness with raw honey. "The combination of coconut milk, goat cheese and blueberries not only tastes delicious but adds a hearty dose of quality fats known as medium-chain triglycerides (MCTs) as well as protein," Bowman says. "Goat cheese is also a rich source of calcium and phosphorus, while coconut milk adds a boost of copper and potassium."
4. Kale Fruit Salad With Blueberry Dressing
The combination of greens and fruit makes this salad an anytime sort of dish — so whether you're craving it for breakfast, dinner or something in between, it's totally appropriate. This salad gets its 10 grams of protein mostly from the dressing: You blend the tofu with olive oil, vinegar and half a cup of those nutritious blueberries for a creamy mix that you'll want to douse on everything. This whole recipe is very versatile, so feel free to sub in whatever fruits and veg you have on hand.
5. Blueberry Balsamic Glazed Salmon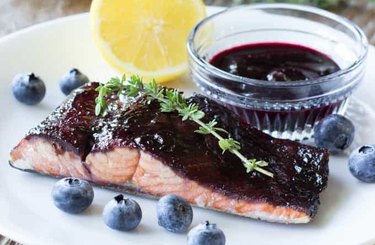 This light yet filling salmon recipe makes for a mouthwatering dinner that's equal parts delicious and healthy. It incorporates sweet blueberries that fight against inflammation and salmon that's rich in omega-3 fatty acids. This dinner comes together fast, making it an ideal addition to your weeknight routine. And with 23 grams of protein, it's a keeper.
6. Blueberry Eggs Breakfast Salad
This salad might have "breakfast" in its name, but it makes for a delicious and healthy dinner, too.
It has 3 grams of fiber and 17 grams of protein. Because both of these nutrients are key components to a healthy, balanced meal, Bowman says you'll feel satisfied well into lunchtime. Plus the naturally sweet notes here will help battle sugar cravings. "The use of coconut oil or olive oil spray in combination with spices and herbs, including red chili flakes, basil and cinnamon enhance the flavor of this salad without adding excess calories," she says.
Was this article helpful?
Thank you for your feedback!