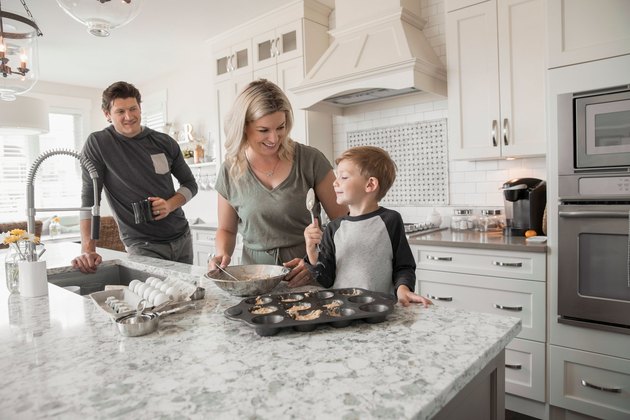 Your oven is so much more than a place to store pots and pans, occasionally bake up a sheet of cookies or reheat pizza.
The oven's dry heat is a pro at coaxing out flavor, says Olivia Roszkowski, a chef-instructor at the Institute of Culinary Education's Health-Supportive Culinary Arts. "Baking also helps develop crisp textures and bring out some foods' natural sweetness," she adds.
And while healthy baked goods may seem like an oxymoron, baking — yes, even decadent treats — can be done in a nutritious way. With your oven's help, you can slim down indulgent desserts (and also add good-for-you ingredients), make lean meats juicy instead of dry and bump up your veggies' flavor.
The pros — chefs and dietitians — share their favorite baking hacks for more flavorful cooking below.
1. Watch Your Temperature
"One of the biggest baking mistakes I see over and over is not letting the oven preheat long enough," says Michele Sidorenkov, a trained chef and registered dietitian nutritionist. Don't be steered by the preheat buzzer going off (if your oven boasts that functionality), she cautions. "Sometimes it beeps at 100 degrees below what you set it to," Sidorenkov says.
Instead, invest in an oven-safe temperature gauge. And do preheat the oven if the recipe suggests it, says John Ferguson, executive chef at the Omni Homestead Resort in Hot Springs, Virginia. "If you wait to turn the oven on right when the food goes in, you can risk a cake not rising properly, cookies that spread out too thin or chicken that's dried out by the time it's cooked all the way through," Ferguson warns.
2. Seek Out Butter Alternatives
Try using avocado in place of butter when baking bread and muffins, recommends Ashleigh Wright, executive pastry chef at the Omni Nashville Hotel. The swap will yield softer baked goods that are less likely to crumble, she says.
And, unlike butter, avocados are chock-full of heart-healthy monounsaturated fats that help keep cholesterol levels in check. An April 2018 meta-analysis of various avocado studies published in the American Journal of Clinical Nutrition found that consuming the fruit led to increased levels of HDL cholesterol. Avocados are also rich in vitamins E and K as well as hunger-quelling fiber.
3. Add Moisture to Baked Goods With Bananas
Here's another fruit-based substitution to try: Grab a banana if you're all out of eggs (or are following a vegan diet).
A banana is a great substitute that mimics butter's texture in chewy baked goods like brownies, says Wright. "It lends both moisture and sweetness as well as acts as a binding agent." Plus, bananas are a nutritional powerhouse: They contain heart-healthy potassium, immune-boosting vitamin C and fiber — three nutrients that butter is missing.
4. Make Protein Juicy — Not Dry
Worried your main dish will dry out in the oven? Cover it up, suggests mindful eating coach Dina Garcia, RD. And hink creatively about what toppers will add moisture and richness. She recommends marinating meat, chicken and fish for a few hours before cooking to ensure they retain moisture.
Try water-rich lemon or tomato slices, or create a blend of herbs, garlic and olive oil, says Garcia. Coating your protein with a thin smear of mayo mixed with parmesan cheese and herbs is another option, she says. Not only with these ideas add moisture to your meal but they'll also endow some serious flavor.
5. Cut Down on Sugar
You know how the recipe for your favorite shortbread cookies calls for an entire cup of sugar? Think of that as a recommendation, not a rule.
"See if you can get away with using less sugar than the recipe calls for," says Garcia. The less sugar you use, the healthier your treat. And you may be surprised by how minimal the effect is on the taste of your brownies, cookies and cakes when you trim the sweet stuff down to two-thirds or three-fourths of a cup.
If you're not sold on the taste of less sugar, you can also use a mixture of sugar and stevia to sweeten up your treats. Start by swapping a half cup of sugar with nine or 10 stevia packets, and then adjust the amount of stevia according to your taste.
6. Stir in Yogurt for Added Protein
Instead of milk or cream, use the exact same amount of full-fat Greek yogurt in your sweet and savory recipes, suggests Rachel Fine, RD. From a taste perspective, you likely won't notice the difference between using milk or yogurt in your recipe — but you'll be accruing all sorts of benefits.
Swapping a cup of whole milk for a cup of full-fat Greek yogurt will lend your dish an extra 14 grams of muscle-building protein. And that's not all: A June 2017 study published in the European Journal of Nutrition found that people who ate yogurt had a lower body weight, BMI, smaller waists and lower blood sugar levels than folks who forgo yogurt.
7. Experiment With Different Types of Flour
Desserts full of white flour have an inevitable consequence: a spike in blood sugar followed by a crash. That can be reduced if you replace some of the white flour with whole-grain flours, which have a lower glycemic index (GI).
Doing so will increase the fiber content and lessen the blood sugar spike, Garcia says. White bread has a high GI while whole-wheat bread falls in the medium range, according to the American Diabetes Association. Roszkowski suggests swapping at least half of the flour your recipe calls for with whole-wheat flour.
8. Sneak Veggies in
Vegetables are healthy and delicious — and there's no reason to limit their use to just main dishes and sides. There are plenty of ways to integrate veggies in deserts too.
"Who doesn't love carrot cake or zucchini bread?" asks Garcia. "Find ways to incorporate shredded veggies into baked goods." You can add fiber-rich dates or protein-packed black beans to brownies, Roszkowski suggests, without compromising flavor.
9. Make Use of Your Meat Thermometer
Overcooking foods leads to lifeless steak and parched poultry — which makes for an unappetizing meal. However, overdone food is an easily preventable outcome. Just use a meat thermometer!
Opt for an oven-safe thermometer and pierce it into the meat before placing it in the oven, says Sidorenkov. "It's also important that you position the temperature gauge towards the oven glass so that you don't have to open the oven to read the temperature," she adds. Why's that important? Every time you open the oven door, heat escapes and the temperature fluctuates, throwing off cooking times and compromising your food's doneness.
10. Try Sheet Pan Recipes
Looking to reduce cleanup and simplify your dinner? Just toss all of your ingredients on a single sheet pan and bake everything together, says Sidorenkov. Sheet pan meals are weeknight game-changers, she says.
"Sheet pan dinners are usually pretty healthy because they typically include a lean protein and assorted vegetables," Sidorenkov says. Try your hand at a salmon with roasted root veggies or chicken thighs with zucchini and squash.
11. Avoid Mushy Vegetables
It's no secret that limp, overcooked veggies are unappealing. To avoid that (and get your kids to actually fork into their plants!), Roszkowski offers this tip: "Preheat an oven-safe metal tray in the oven for 10 minutes before adding your veggies. This will result in an extra crispy finish." Make sure that all of your vegetables are cut in uniform size so that they'll cook to the same doneness, she adds.
12. Bust Out the Dutch Oven
You'll gain a lot of flavor if you bake foods in a Dutch oven or lidded ceramic pot, says Sidorenkov. Dutch ovens are ideal for lean cuts of meat, which must be cooked slowly on a low temperature to yield a fall-apart tender texture, she notes.
"The low-and-slow method helps break up the ligaments and tough fibers typically found in leaner meats," says Sidorenkov. If you're looking to reduce fat but still want flavorful food, a lean cut cooked in a Dutch oven is your best bet.
Another awesome way to bake meat? Braise it using a flavorful liquid such as beef broth. "Braising is a great way to get a lot of flavor into a tough cut of meat while tenderizing it," notes David Noto, director of food and beverage at the Omni Bedford Springs Resort in Bedford, Pennsylvania.
13. Try New Ways to Dredge
Bored with breadcrumbs? Look for other options to coat your chicken breasts. Roszkowski offers two helpful suggestions. First, try soaking flax seeds in warm water until the mixture becomes gel-like. Then, you can dredge chicken with the mix — and get all the benefits of the ancient seed, which is rich in fiber and omega-3 fats. In fact, a March 2015 meta-analysis in the Journal of Nutrition found that flax seeds may help lower blood pressure.
Roszkowski also recommends coating your proteins in unsweetened, finely shredded coconut flakes. This will add incredible texture to your chicken as well as a subtly nutty flavor that your dinner guests will go nuts for.