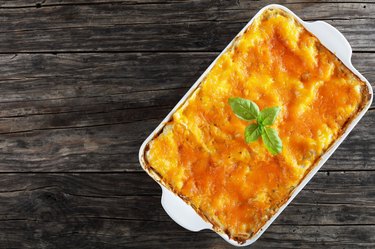 Oven-baked lasagna is the ultimate comfort food, but it can also be a surprisingly healthy dish if you switch up a few ingredients. Whether you like it meaty, vegetarian or low-carb, there are ways to customize a traditional lasagna recipe and turn it into a healthy meal that's bursting with flavor.
Tip
Even though the ingredients can be customized to your taste, the steps for baking lasagna are basically the same. Layer the tomato meat sauce, noodles and cheese mixture three to four times in a baking dish and then cook it in the oven at 350 degrees Fahrenheit for 25 to 35 minutes.
Baking Lasagna Tips: Choosing Noodles
A traditional lasagna recipe uses flat white noodles that are boiled, layered in a dish with the other ingredients and then baked to combine all the delicious flavors. Several brands are now offering oven-ready lasagna noodles that can save you time as they don't require boiling. You just layer the uncooked noodles with the meat and other ingredients and cook everything in the oven.
Whole-grain noodles are a healthy option when baking lasagna. Barilla's Oven-Ready Lasagne Noodles, for instance, have 190 calories and 2 grams of fiber per three pieces, versus 160 calories and 6 grams of fiber in 2 ounces of Whole Wheat Lasagne Noodles. The latter option is significantly higher in fiber. You can also find gluten-free varieties, which are ideal for those with Celiac disease or wheat allergy.
Get creative and swap noodles for vegetables by cutting them into strips. Zucchini is often used as a noodle substitute, or a "zoodle." Another option is to use strips of eggplant. You can still layer the meat sauce and cheese for that delicious lasagna flavor — but without the carbohydrate-heavy noodles. Plus, you'll get an extra serving or two of vegetables.
Meat Sauce or Vegan Alternatives
A traditional lasagna recipe calls for ground beef to make the meat sauce. The meat is seasoned with onion and garlic before adding tomato sauce. Spices like Italian seasoning and basil, as well as salt and pepper, give it a delicious flavor.
When making lasagna, you can easily use different types of meats to save calories and fats. The Mayo Clinic recommends swapping ground beef in your recipes for extra-lean ground beef or lean ground turkey or chicken. This recipe for Rotisserie Chicken Lasagna is a breeze to put together and makes a hearty meal for the entire family.
You can also leave out the meat for a vegetarian lasagna option, as eating plant-based meals on occasion is good for your health. An October 2016 study in_ JAMA Internal Medicine_ has found that plant protein may lower the risk of heart disease and cardiovascular mortality.
Rather than using meat, consider plant-based protein sources like tofu or kale. Vegetables like zucchini, squash and bell peppers can also be added to the tomato sauce. This baked lasagna vegetable recipe from the Cleveland Clinic uses zucchini and eggplant strips for the noodles, lots of vegetables instead of meat and raw cashews instead of cheese.
Time for the Cheesy Layers
You have your noodles, vegetables, meat and the tomato sauce mixture ready, and now it is time for the cheese. The cheese mixture in a traditional lasagna recipe combines ricotta cheese, mozzarella and parmesan mixed together with seasonings and an egg to bind it all together.
To make your meal healthier, try this lean lasagna recipe that swaps out the ricotta cheese for a mixture of low-fat cottage cheese, plain yogurt and seasonings. You still get the same creamy taste but without the calories and fat.
The Cleveland Clinic has another flavorful option that uses low-fat ricotta cheese and low-fat mozzarella cheese. The taste is similar to a traditional lasagna recipe, but with less fat and calories. In general, you can substitute one cup of low-fat cottage cheese for one cup of ricotta cheese.
Now that you have all your lasagna ingredients, it's time for the fun part (besides the actual eating) — assembling and baking your lasagna.
Lasagna Cooking Time and Tips
Spread a layer of the meat sauce or tomato sauce on the bottom of a 12-by-10 inch dish. If you use regular noodles, make sure they have been boiled and are ready to go. Otherwise, place a layer of oven-ready noodles or a vegetable noodle alternative, such as sliced zucchini.
Next, spread a layer of your cheese mixture on top of the noodles. Add two more layers of meat sauce or tomato sauce, followed by noodles and cheese.
Lasagna cooking time can vary depending on ingredients used, but in general, it is 350 degrees F for 25 to 35 minutes or until the cheese melts. To avoid dry lasagna, cover the top with aluminum foil (be careful not to let it touch the top of the lasagna to avoid a mess) and bake for 25 to 30 minutes.
Remove the foil and let it cook uncovered for five to 10 minutes so the top gets lightly browned. Let it cool for about 10 minutes before serving. Sprinkle with fresh basil leaves and enjoy.