A bowl of chili is often a staple of football-watching parties, but you don't have to be a sports fan to enjoy this Southern-inspired dish that typically blends beef, beans and peppers. The calories in your bowl of chili depend on how it's prepared, and topping the bowl with a few extra ingredients can boost the caloric content.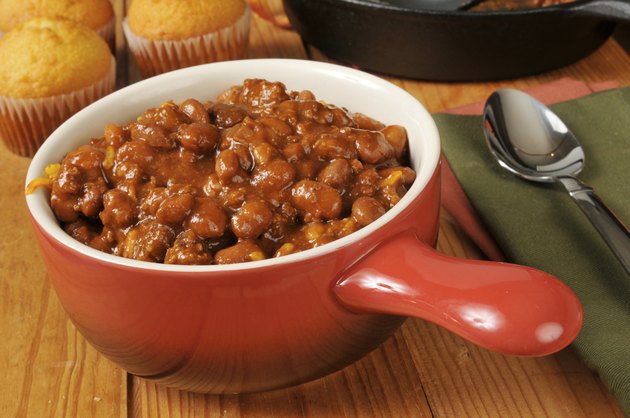 Restaurant-Style Chili
A 1-cup bowl of restaurant-style chili with meat and beans has 214 calories, according to the U.S. Department of Agriculture's National Nutrient Database. It also contains 17.1 grams of protein, 13.3 grams of total fat, 6.2 grams of carbohydrates, 1.9 grams of dietary fiber and 3.1 grams of sugar.
Canned Chili
One cup of canned chili with beans contains slightly more calories than the same size of restaurant-style chili. A serving of canned chili has 287 calories, 14.6 grams of protein, 14.1 grams of total fat, 30.5 grams of carbohydrates, 11.3 grams of dietary fiber and 3.1 grams of sugar.
Check the Fiber and Sodium
Regardless of the type of chili you eat, doing so provides a boost of dietary fiber, as beans are high in fiber. Depending on the recipe, a cup of chili can pack 10 grams of fiber or more. On average, adults should consume between 25 and 30 grams of fiber every day as part of a balanced diet. One concern about chili is its high sodium content. A cup of regular chili can provide from 500 milligrams to nearly 1,000 milligrams sodium. Your daily sodium intake shouldn't exceed 1,500 milligrams. Keeping your sodium intake low reduces your risk of high blood pressure.
Add Some Toppings
Adding some toppings to your bowl of chili can increase the flavor, but doing so also increases its calories. One-quarter cup of shredded cheddar cheese has 114 calories. Two tablespoons of reduced-fat sour cream adds another 43 calories to the bowl of chili. A healthier choice is some diced green onion. One tablespoon of the top portion of a green onion has just 2 calories.