Bloating, that feeling of fullness and swelling, is uncomfortable and can be distressing. While it might seem contradictory, you can usually fix fluid retention in your body by increasing your fluid intake, including drinking more water. As you drink more water, your body releases fluids, potentially leading to less bloating. However, bloating can also be caused by other factors, such as kidney damage, that require medical attention.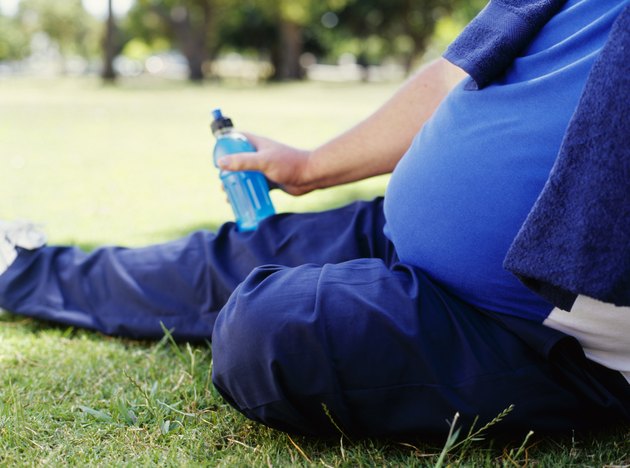 Water Retention
Water retention occurs when your body holds onto fluids in your soft tissue, joints and body cavities. This leads to a swelling or bloated sensation in parts of your body, most commonly in the extremities, such as your fingers, face, feet, ankles and legs. Mild water retention can be caused by fluctuating hormone levels, hot or humid weather, sunburns and standing for long periods of time. In these cases, drinking more fluids -- such as water -- can remedy or reduce bloat.
How Much to Drink
To treat mild fluid retention, consume more fluids. MedlinePlus recommends drinking a minimum of six to eight 8-ounce glasses of fluids per day. You should drink more if you're exposed to hot weather or have been participating in sports or exercise. As the fluids rehydrate your body, your body learns it is no longer at risk of dehydration, so it will release the retained fluids, leading to reduced swelling. According to MedlinePlus, water is the recommended beverage of choice for rehydration, but you can also rehydrate with sports drinks, juice, teas and coffee.
Fluid Intake Precautions
In cases of severe water retention, increased fluid intake will not treat the bloating feeling and may actually be dangerous. For example, if you consume more fluids and have undiagnosed kidney failure, the extra fluid can lead to fluid overload, raising your blood pressure and possibly causing heart disease. In extreme cases, it can cause fluid in the lungs, also known as pulmonary edema. Symptoms of severe water retention include abdominal swelling, sudden changes in mental state, trouble breathing, coughing up blood and pitting that stays after you push down on the skin for several seconds. If you are concerned about an underlying disease as a cause of water retention, seek medical treatment before increasing your fluid intake.
Gas in Your Gut
In addition to water retention, you may experience a bloating feeling as a result of the foods you eat and how you eat them. Excess intake of air while drinking or breathing can lead to gas in your digestive tract, causing a bloated feeling. However, bloating may also result from more severe complications, including intestinal obstruction and colon cancer. It can also be a result of irritable bowel syndrome, of which bloating is a common symptom. In these cases, bloating will occur mainly in the lower abdomen, and will often pass on its own; water consumption will not help. To diagnose the cause of gas in your digestive system, speak with a medical professional.