Bone scans and magnetic resonance imaging, or MRI, are tools used to determine the presence of certain diseases in bones. Both imaging tests are commonly used in the diagnosis of infections and cancer in the bones. Bone scans are the most widely recommended method for diagnosing these bone diseases, but some benefits of using MRI instead are emerging as use of MRI increases. Several factors are taken into consideration in deciding whether to use a bone scan or MRI for detection of cancer, infection and other disorders of the bones.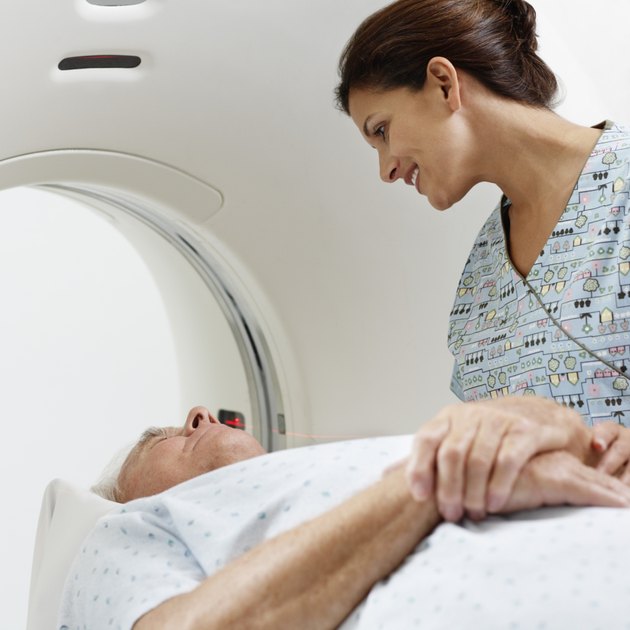 How They Work
A bone scan, or bone scintigraphy, uses a radioactive tracer to image bone. Mineral compounds incorporated into bones during healing are labeled with radioactive tracer and injected into the body. These compounds are absorbed by bone cells called osteoblasts, which add minerals to bone. Localized radioactivity is then detected to form an image. MRI uses magnetic fields and radio frequency pulses to determine where molecules are located. The pulses cause molecules to emit signals that are measured by monitoring the magnetic field. Different molecules emit different signals, allowing an image to be created.
Bone Scans and Cancer
When a tumor arises in or invades bone, osteoblasts try to heal the damaged area. Bone scans locate areas of osteoblasts forming new bone to determine the location of possible bone tumors. Bone scans are relatively inexpensive compared to MRI and are very sensitive. However, the absorption of radiotracer by osteoblasts is not specific to any particular disease, and active repair of stress fractures or other injuries produces a similar image. Additionally, radioactive tracer is incorporated into the entire skeleton at an increased rate after chemotherapy and hormone therapy, making it difficult to monitor the response of tumors to treatment with bone scans alone.
MRI and Cancer
MRIs create an accurate, three-dimensional picture of the imaged area. The structure of bone and soft tissue is visible in the image. MRI does not produce a whole-body image like a bone scan does, so MRI is targeted to relevant areas. As use of MRI for cancer detection increases, some benefits of this technique over a bone scan are being revealed. For example, MRI detects cancer cells invading bone marrow before tumors cause damage to the bone itself. Therefore, MRI may detect cancer that has spread to the bones earlier than would be possible with a bone scan in certain cases. However, MRI is an expensive technique that is not available in all locations and may not be appropriate for certain people.
Bone Infections
Bone infection, or osteomyelitis, is detected with bone scans and MRI. Inflammation in response to infection causes bone destruction. Osteoblasts attempting to repair the injured bone are detected by bone scans. MRIs show the physical abscess and abnormal appearance of infected bone and are preferred for diagnosing osteomyelitis in the spine. But bone scans supply very specific results for osteomyelitis in other bones of the body, as long as no other injuries are present.
Other Conditions
Doctors may choose an MRI or bone scan to help diagnose other conditions, such as avascular necrosis. With this condition, an area of bone dies due to loss of blood supply. One or the other of these imaging tests may also be used when evaluating for the presence of stress fractures or other stress-related bone injuries. As with use of MRI and bone scans for detection of cancer and bone infections, each test has advantages and disadvantages for the evaluation of avascular necrosis and stress-related bone injuries.