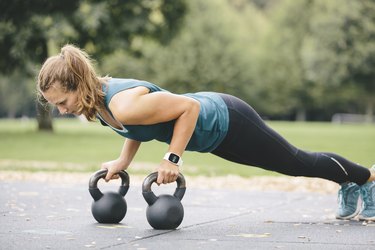 To meet the police officer physical fitness test requirements, establish a workout routine that includes strength training and cardio workouts. These requirements vary by department. Practice the events on the test, which commonly include a run, pushups and sit-ups.
Tip
Prepare for the police physical fitness test by determining the specific requirements for your local police department. Develop a strength and cardiovascular training plan to improve your fitness level so you can pass the test.
Police Officer Physical Test Requirements
It is important to know the requirements for the police department you want to work with — each department sets its own minimum requirements for physical fitness for its officers and trainees.
The minimum score required in each test usually varies by age and gender. For example, as of 2019, the City of Tolleson, Arizona, requires recruits to pass a test consisting of a one-minute sit-up test, a one-minute pushup test and a 1.5-mile run.
In Tolleson, the female police officer physical test requires women to meet the following minimum standards:
20 to 29 years old: 15 push-ups, 32 sit-ups, complete run in under 14 minutes, 30 seconds

30 to 39 years old: 11 push-ups, 25 sit-ups, complete run in under 15 minutes, 38 seconds

40 to 49 years old: 9 push-ups, 20 sit-ups, complete run in under 16 minutes, 21 seconds

50 to 59 years old: 14 sit-ups; complete run in under 18 minutes, 7 seconds
Men taking the police officer fitness test in Tolleson, AZ must meet these requirements:
20 to 29 years old: 29 push-ups; 38 sit-ups; complete run in under 12 minutes, 38 seconds
30 to 39 years old: 24 push-ups; 35 sit-ups; complete run in under 13 minutes, 04 seconds
40 to 49 years old: 18 push-ups; 29 sit-ups; complete run in under 13 minutes, 49 seconds
50 to 59 years old: 13 push-ups; 24 sit-ups; complete run in under 15 minutes, 03 seconds
Some departments only have one standard for men and women of all ages. For example, all police officers working for the City of Madison, Wisconsin, must be able to complete 25 sit-ups in one minute, 15 push-ups in one minute and a 1.5-mile run in less than 16 minutes, 57 seconds.
Cardiovascular Training and Conditioning
To meet the police officer physical fitness test requirements, you need to demonstrate sufficient cardiovascular fitness, usually by completing a 1.5-mile run. To train for this event, consider some aerobic workout suggestions from the Drug Enforcement Administration, a federal law enforcement organization:
Perform a 20- to 30-minute run at a pace that feels challenging to you.
Interval training: Run for three minutes at a faster than normal speed, then slow to your normal speed for three minutes. Repeat, decreasing the time by 30 seconds for each interval. Your final interval should be 30 seconds.
Interval sprint training: On a running track, sprint for half of the track and jog the other half to recover. Repeat with each sprint being 10 seconds slower than the last until you have run for a total of 1.5 to 2 miles.
Warning
Always consult your doctor before starting any new training program. If you experience pain while running, this may be a sign of overuse or overtraining.
Discuss with your doctor to rule out an injury, and consider a lower-impact cardio option, such as the stair climber or rowing machine. If you feel dizzy or lightheaded, stop the activity.
Muscular Strength and Endurance
To increase your muscular strength and endurance, include the exercises that you will be tested on in your workout plan. Keep your workout diverse by adding in variations.
There are several ways you can set up your workout. Using push-ups as an example, here are some of the options suggested by the Drug Enforcement Administration's Physical Training & Conditioning Manual for agents :
Pyramid workout: With a 10-second rest between sets, do two repetitions on the first set, four reps on the second and so on. Then, when you reach your maximum —

for example, 10 repetitions —

decrease the reps in each set. The next set will have eight, then six and so on, until you return to the starting number of reps.

Speed workout: Do as many pushups as you can in 20 seconds. Rest for 20 seconds. Repeat for four to eight sets.

Maximum repetitions: In one set, do as many repetitions as you can until muscle failure. Rest and repeat for four to eight sets.
You can also improve your workouts by doing some variations of each exercise. For example, push-up variations might include single-leg push-ups, push-ups with elevated feet or partner-resisted push-ups.
Round out your routine and target every major muscle group in your body for optimal fitness. If you decide to include weight lifting in your training routine, be sure to work with a spotter to help you out.
Other Physical Fitness Test Events
Some departments administer a physical fitness test that consists of exercises that more closely mimic what an officer might do on the job. For example, the New York City Police Department requires candidates to complete six stations in under four minutes and 28 seconds. The stations include:
Sprinting 50 feet and getting over a 6-foot-tall barrier
Stair climb
A simulation of physically restraining a suspect
A 600-foot pursuit run
A rescue simulation that includes dragging a 176-pound dummy 35 feet
Pulling a trigger 16 times with the dominant hand and 15 with the non-dominant hand
The strength and cardio exercise plan will help you to achieve these events, but you may also want to add practice time into your workout schedule. For example, include stair climbing in your cardio workouts and practice dragging a dummy or sandbag to improve your agility.
Put It All Together
Develop a plan based on your current strengths and weaknesses. You can also follow a plan like the one suggested by the Drug Enforcement Administration to prepare for your physical fitness test. This weekly training schedule includes three days of aerobic exercise, such as running, two sessions of calisthenics training that includes sit-ups, push-ups and pull-ups, and one anaerobic workout consisting of multiple sprints.
To prevent injury and get the most out of every workout, be sure to do a thorough warm-up. Start slowly at an intensity appropriate for your fitness level and increase the number of reps over time. Remember to breathe during each exercise. Take at least one day to rest each week to allow your muscles time to recover.
Finally, maintain a healthy diet and stay hydrated. Focus on eating lean protein, fruits and vegetables in multiple colors, whole grains, and healthy fats like omega-3s and monounsaturated fatty acids.