Hemoglobin is the red pigmented, oxygen-carrying protein found in red blood cells. When hemoglobin is present in the urine, it is termed hemoglobinuria. Certain conditions and diseases can result in red blood cell destruction within the bloodstream. As the level of free hemoglobin rises, it becomes detectable in the urine. Laboratory analysis is used to confirm the presence of hemoglobinuria.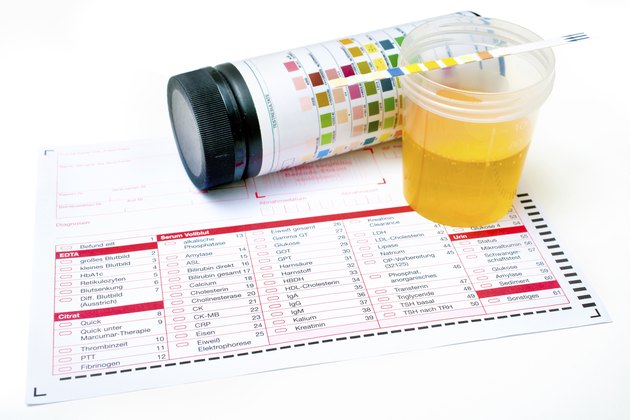 Kidney Infection
Kidney infections are caused by bacteria making their way to the kidneys. The bacteria usually ascend from the genital area through the urinary tract to the kidneys. Sometimes the infection develops from a different infection somewhere else in the body. Kidney infections can cause bleeding within the kidney, resulting in red blood cells and hemoglobin in the urine. Symptoms usually include flank pain, fever, chills, nausea and vomiting. Some people also experience symptoms similar to a bladder infection with a frequent and urgent need to urinate. The urine may be red or brown due the presence of hemoglobin or red blood cells.
Kidney Tumors
Kidney tumors are another cause of hemoglobinuria. The tumors can be malignant, as in renal cell adenocarcinoma, transitional cell carcinoma or Wilm's tumor, or they may be benign. Any type of tumor or cyst in the kidney can damage the surrounding tissues and result in hemoglobinuria. Symptoms of kidney tumors include red-colored urine, a swelling or lump in the back or abdomen, persistent back or side pain, weight loss, fatigue, and fever.
Hemolytic Uremic Syndrome
Hemolytic uremic syndrome, or HUS, is a condition causing red blood cell destruction due to toxins formed in the digestive tract. The toxins are usually the result of an infection with E. coli bacteria from contaminated foods or beverages. Free hemoglobin is released into the bloodstream when red blood cells are destroyed by these toxins. As the kidneys filter the blood, all this spilled hemoglobin is passed into the urine, producing hemoglobinuria. This syndrome occurs more frequently in children but can affect people of any age. It is the most common cause of acute kidney failure in children, according to the National Kidney and Urologic Diseases Information Clearinghouse.
Is This an Emergency?
If you are experiencing serious medical symptoms, seek emergency treatment immediately.