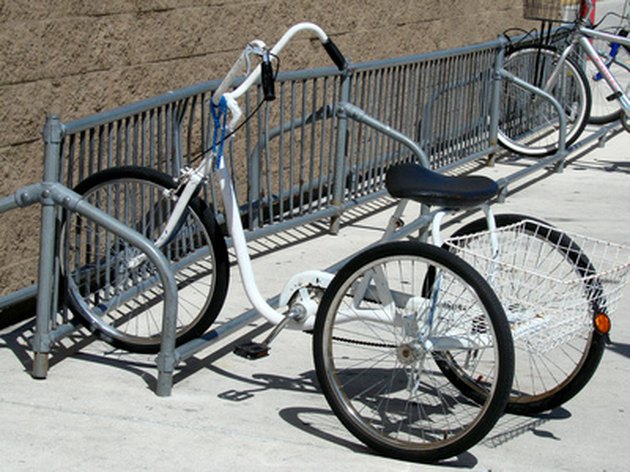 What to Look For
There are many choices on the market that basically fall into three categories, the upright three-wheel cycle, a recumbent trike or a semi recumbent which combines the best features of both. The recumbent trike has the lower easy chair reclining style with the pedals in front. The semi-recumbent has the same comfort but sits a little higher for greater visibility by traffic. Options in the upright tricycle include folding models, cargo baskets and adjustable upright handles.
Common Pitfalls
Three-wheel upright adult trikes are more expensive and up to this point have been harder to find. They are heavy, take up more storage space and are difficult to assemble.The trikes are wide. They don't always fit in the bike lane or around parked cars. Since upright trikes are top-heavy, 26-inch wheels can cause tipping and injury.
Most recumbent trikes are great on bike trails but they are more difficult on hills. You cannot stand up to climb the hill so the seating position requires different muscle development.
Where to Buy
Shop online for the greatest selection. Target stores usually carry a Schwinn three-wheel upright tricycle for around $250, while its website offers a Triton Pro Ultimate 3-Wheeled recumbent starting at $360 which includes free shipping. Your local bike shop is another good option. If they do not have one in stock, they could order one and possibly even include assembly.
Cost
The cost of a three-wheel adult upright trike ranges from $320 to $500 while the price of a three-wheel recunbent trike ranges from $360 to over $1,000. A semi-recumbent with speed can be bought for around $500.
Comparison Shopping
The upright tricycle has a step-through design for ease of mounting. They are comfortable and stable compared to a two-wheeler. Replacement parts are easy to find and lightweight aluminum has reduced the weight of newer models.
Recumbent trikes are generally aerodynamically faster and more comfortable with back support and adjustable positions. They ride close to the ground, so there's usually no tipping and a greater view. Recumbents are more expensive, less visible and harder to pedal. Because you have your back leaning against a seat back, seeing behind you can be difficult.
Seniors sometimes find recumbent trikes a bit low and traditional trikes a little hard to pedal. On semi-recumbents, the pedals are well forward of the seat post, making pedaling easier and more comfortable. The seat back is higher than upright trikes for added support. A lower center of gravity assures stability as the rider can place both feet flat on the ground while seated.