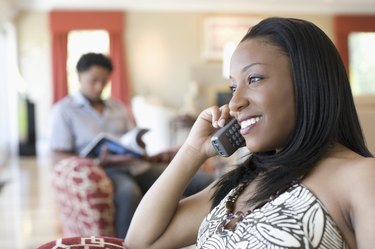 Nutrisystem offers a subscription-based dieting plan that works by providing you with ready-to-eat meals specifically formulated to restrict calorie intake. If you eat only the foods that the company ships to you — shipments arrive once a month in 28-day batches — the company promises that you'll lose weight. However, the cost can be very expensive, warns the Colorado State University Extension. If you ever wish to stop using the Nutrisystem program, cancel it correctly or you'll keep receiving automatic shipments to your home.
Step 1
Call the Nutrisystem cancellation line toll-free at 877-338-8446.
Step 2
Provide the customer service representative with your name and Nutrisystem membership number — outlined on your billing material — and tell the representative that you wish to cancel your membership and stop all food shipments. Nutrisystem notes that cancellations cannot be done via email or their website.
Step 3
Write down the confirmation cancellation number that the customer service representative gives you once the cancellation has been processed, recommends Nutrisystem. You'll need this number if you have any post-cancellation billing problems or inquiries.
Step 4
Ship back the Nutrisystem food that you already have to get your money back if this was your first Nutrisystem shipment. Call the return line toll-free at 888-849-4686 and ask for a return authorization number.
Step 5
Write the authorization number on the packing slip that was included with your Nutrisystem food shipment, place all the food and the slip in a new box and mail it to the Nutrisystem returns department. The address for returning the Nutrisystem food is as follows: OHL/Nutrisystem Returns Dept, 1490 Nitterhouse Drive Chambersburg, PA 17201.
Things You'll Need
Nutrisystem membership number

Shipping box and packing slip
Tip
If you only wish to postpone your Nutrisystem food shipments and not permanently stop it, you can delay your shipments by calling 877-338-8446. Delaying your shipment is free for up to 30 days, after which you'll be charged a fee.