Bulgur wheat is a staple of Middle Eastern cuisine, traditionally used to make tabbouleh and pilafs. Its satisfying, chewy texture and mild, nutty taste have made it popular in the United States as well. Whole wheats, like bulgur, are richer in nutrients and vitamins than refined, processed wheat, which has been stripped of many beneficial ingredients. Low in fat, high in fiber and rich in minerals, bulgur wheat is a healthy dietary choice.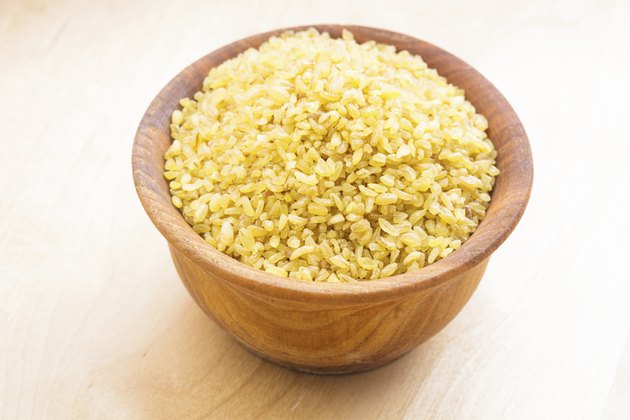 Anti-Inflammatory Effects
Eating bulgur wheat may help to alleviate chronic inflammation, thereby protecting against some diseases. In a clinical study published in the February 2008 issue of the "American Journal of Clinical Nutrition," researchers found that people who consumed higher amounts of betaine, a metabolite found in whole wheat, had lower concentrations of homocysteine, a marker of chronic inflammation that has been linked to heart disease, osteoporosis, Alzheimer's disease and type 2 diabetes.
Cuts Gallstone Risk
Bulgur wheat may help reduce your risk of developing gallstones. Insoluble fiber in whole wheat helps food move more rapidly through the intestines, reduces the secretion of bile, helps your body use insulin more effectively and lowers triglycerides, or unhealthy fats found in the blood. In addition to providing these beneficial effects, which may help guard against gallstones, the fiber in bulgur wheat may alleviate symptoms of diverticular disease.
Chemoprotective Effects
Fiber supplied by whole grains such as bulgur wheat may help protect against cancer. In a clinical study published in the "International Journal of Epidemiology" in 2007, researchers found that pre-menopausal women with diets high in fiber had a reduced risk of developing breast cancer. With one cup of cooked bulgur wheat supplying 8.19 g of dietary fiber, or 32.8 percent of the recommended daily value, bulgur wheat is a good fiber source.
Good Source of Minerals
Bulgur wheat is a very good source of manganese, providing 1.11 mg --or 55.5 percent of the daily value-- per cup. The University of Maryland Medical Center states that manganese, a trace mineral found in the bones and some internal organs, is essential for normal brain and nerve function. It also helps in the formation of connective tissues and in the proper clotting of blood. One cup of cooked bulgur wheat supplies 58.24 mg, or 14.6 percent, of the DV of magnesium, which helps to regulate calcium levels in the body.
Consuming More Bulgar
Use bulgar in place of wheat berries, couscous or rice in your favorite grain salad recipes. Alternatively, stir a handful of bulgar into your leafy green salads to make them more filling, or combine bulgar, sauteed vegetables and lean protein for a healthful casserole. Bulgar also works well served as a breakfast cereal -- simply top it with nuts and fresh fruit for a filling a nutritious breakfast.