An allergy to olive oil is considered uncommon, according to Allergies List. According to the Mayo Clinic, most food allergies are related to tree nuts, peanuts, milk, eggs, wheat, soy, fish and shellfish. An olive oil allergy symptoms are a hypersensitivity to the proteins found in olive oil. When someone with an olive oil allergy consumes or comes into direct skin contact with the substance, the immune system tries to attack it. This causes the production of antibodies and histamine that leads to common food allergy symptoms. If you suspect that you have an olive oil allergy, make an appointment with an allergist for confirmation.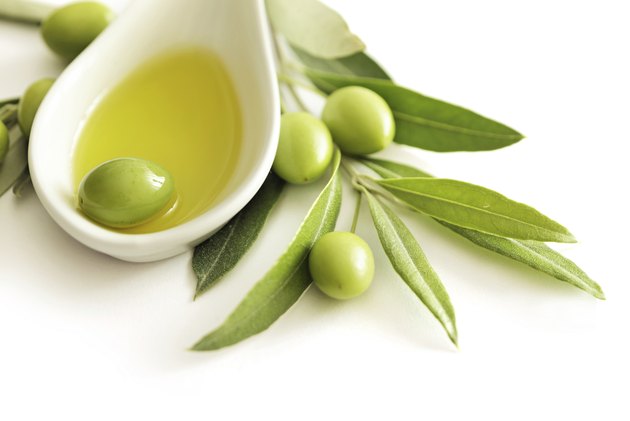 Eczema
Eczema is an allergic skin rash reaction when someone touches olive oil to her skin. The mast cells in the layers of skin release histamine to ward off the olive oil proteins. This causes the skin to become inflamed and extremely itchy, according to Internet Health Library. Contact eczema forms in the affect patch of skin exposed to the olive oil and can cause a full-body eczema outbreak. Eczema is commonly treated with over-the-counter hydrocortisone creams, prescribed corticosteroid lotions and moisturizers.
Hives
Hives are welts that form as a result of increased levels of histamine near the surface of the skin. Hives form in various shapes and sizes but have defined borders, according to MedlinePlus. If you press on hives, a white center forms. Hives are able to migrate anywhere on the body without reason. Hives from olive oil can develop as a result of ingestion or by touching the substance. Hives typically last for a few hours and will subside within a 24-hour period. If hives continue, acquire medical advice.
Asthma
Asthmatic symptoms are common with an olive oil allergy, according to Allergies List. Asthmatic symptoms may include shortness of breath, chest pain, wheezing and coughing. The increased levels of histamine in the lungs cause swelling and inflammation, restricting the individual's ability to breathe normally. Prescribed inhalers are used to reduce inflammation in the airways and open the lungs, providing normal breathing.
Gastrointestinal
One of the most common symptoms of an olive oil allergy is gastrointestinal issues, such as gas, bloating, nausea, vomiting and diarrhea. The person can experience extreme abdominal pain and cramping after ingesting olive oil. The only treatment once the oil has been consumed is to wait for the body to fully expel the substance.
Anaphylaxis
The Mayo Clinic warns that any food allergy can lead to anaphylaxis, a rare allergic reaction that could be life-threatening. If you experience a drop in blood pressure or an increased heart rate after eating olive oil, call 911 for immediate medical attention.