A microwave produces a baked potato in the fraction of the time it takes to bake one from start to finish. One drawback to microwave cooking is that you miss out on the crisp skin that comes with oven baking. To get the best of both options, start your baked potatoes in the microwave and then transfer them to the oven to finish. This way, you cut down on the overall cooking time without sacrificing the oven crispiness on the outside.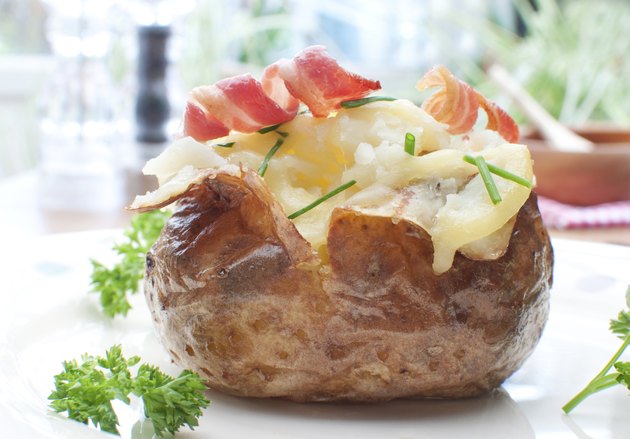 Step 1
Scrub the potato thoroughly under cold water. Use a clean scrub brush to remove the dirt remnants if necessary to get the potatoes clean.
Step 2
Poke holes in the skin of the potatoes use a fork. This gives the steam a way to escape so your potatoes won't burst either in the microwave or in the oven.
Step 3
Microwave the potatoes about 5 min. You don't want it cooked completely through, but you do want it to start cooking. Add a few extra minutes if you're cooking more than one potato.
Step 4
Brush on a light coating of canola or olive oil onto the skin of each potato. Sprinkle the oiled skin with coarse salt.
Step 5
Bake the potatoes at 425 degrees F. Place the potatoes directly on the top oven rack. Place an empty baking sheet underneath to catch any oil that drips off of the potatoes as they bake.
Step 6
Poke a fork into the largest potato after 25 to 30 minutes to check it. The fork should go through the middle of the potato with no hesitation if it is done. Bake the potato longer if it still feels hard in the center.
Things You'll Need
Potatoes

Scrub brush

Oil

Salt
Tip
Wrapping a baked potato in foil while baking keeps the skin soft, but it may also make the potato mushy. If you want a softer skin, skip the oil step. If you are baking other items that need a different oven temperature, adjust the baking time of the potatoes. You can cook the baked potatoes from 350 degrees F and up.