A baked potato probably isn't the best choice for people on a diet, but it's OK to have one occasionally, especially if the alternative is french fries or mashed potatoes. To fit this food into a balanced reduced-calorie diet, you'll just have to watch what you eat along with it to minimize the impact on your weight-loss efforts.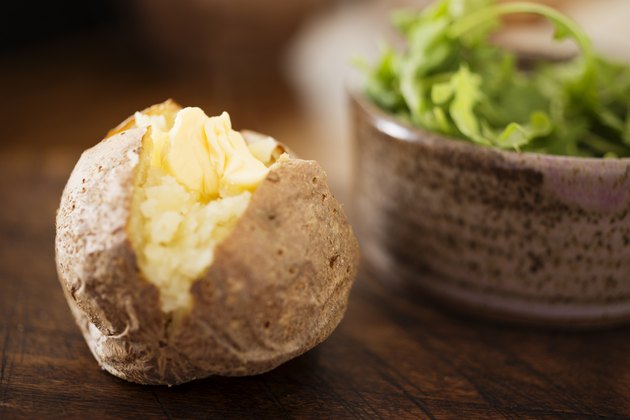 Potatoes and Weight
With about 170 for a medium Russet with the skin on, a plain baked potato isn't that high in calories, but the toppings can really add a lot of calories and make it hard to stick within your daily caloric budget for weight loss. Also, a study published in The New England Journal of Medicine found that eating any type of potatoes, including boiled or baked, was associated with increases in weight gain, although the increase was much less for baked potatoes than for french fries. The more often you eat potatoes, the greater the potential risk for weight gain.
Glycemic Index and Weight Loss
Baked potatoes are high on the glycemic index, with a score of 99 with the skin and 140 without it. The skin provides most of the fiber in the potato, and fiber lowers the GI of foods. The glycemic index is a measure of how much a particular food is likely to increase your blood sugar levels. Foods with high scores of 76 or greater are more likely to cause spikes in blood sugar levels than those with low scores of 55 or below. When your blood sugar spikes, the body releases insulin, causing your blood sugar to drop, which can make you feel hungry. Foods that are high in carbohydrates and quickly digested tend to have a high glycemic index.
However, if you combine higher-GI foods with low-GI foods or foods high in protein or fat, the overall glycemic index of the meal is decreased. A review article published in The Cochrane Library in 2007 noted that eating a diet low on the glycemic index could be more effective for weight loss than following a low-fat diet. So theoretically, eating your potato with toppings containing protein, fiber or a little bit of fat will lower the overall GI of the meal.
White Potatoes Versus Sweet Potatoes
If you'd really like a potato, you're probably better off enjoying a sweet potato instead of a white potato. Sweet potatoes have a similar number of calories, but more than twice the fiber as well as more vitamins and minerals as white potatoes. The fiber helps fill you up because it slows the passage of food through your digestive tract.
Although baked sweet potatoes are a relatively high-GI food, with a score of 94, boiled sweet potatoes are a low- to medium-GI food. After being boiled, the score drops to between 44 and 61, depending on length of time they're cooked. As a result, boiled sweet potatoes are a better option for weight loss.
Choosing the Right Toppings
A fast-food-style baked potato topped with sour cream and chives can have as many as 426 calories, and one topped with bacon and cheese sauce can contain about 487 calories. That's enough calories for an entire meal on many weight-loss diets.
It's better to use smaller amounts of high-calorie toppings on your potato or choose lower-calorie toppings. For example, 2 tablespoons of salsa has just 10 calories, 1/2 cup of broccoli has 27 calories, and 1/2 cup of nonfat cottage cheese has 81 calories. Even if you add all three of these to your potato, it saves calories over the sour cream and chive or bacon and cheese versions. If you want more classic toppings, a mix of 1 strip of bacon, 1 tablespoon of reduced-fat cheddar, 1 tablespoon of chopped green onion, and 2 tablespoons of reduced-fat sour cream has about 100 total calories -- but don't forget to add the calories from the potato itself.