Velveeta is the culmination of research into the nutritional value of cheese byproducts. Introduced by the Kraft food corporation in 1928, Velveeta cheese is noted for its rich, creamy texture and ability to melt evenly. Velveeta is labeled as a pasteurized, processed cheese product.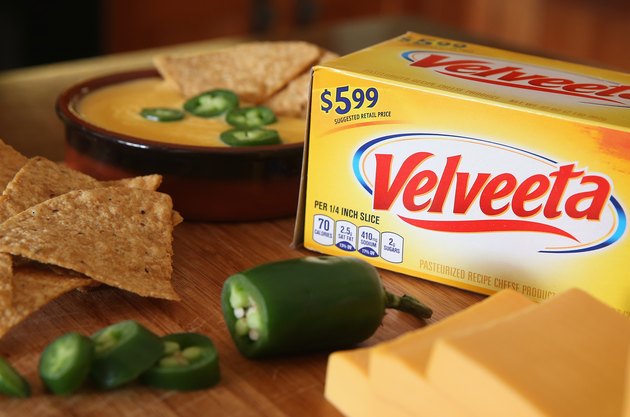 Types
Velveeta cheese is available for sale in 1- and 2-lb. packaging. In addition to the regular blocks of cheese, Kraft manufactures a reduced fat 2 percent milk variety as well as pepper jack, Mexican hot and Mexican mild flavors. Kraft offers individually sliced and shredded Velveeta cheese and a line of macaroni products with added Velveeta cheese.
Ingredients
Regular Velveeta cheese contains milk, water, milk fat, whey, whey protein concentrate and milk protein concentrate. These ingredients make up the bulk of the product. Enzymes and cheese culture are included to aid in the manufacture of the cheese -- these ingredients are bacterial agents that determine the taste, texture and appearance of cheese products. Velveeta cheese contains alginate, an emulsifier found naturally in brown algae. Sodium citrate adds a tart flavor in addition to acting as a preservative and acidity regulator. Sodium phosphate functions similarly to extend the product's shelf life. Two ingredients give Velveeta cheese its distinct hue -- annatto, a yellow-orange color additive derived from the tropical achiote trees, and apocarotenal, an orange color additive derived from citrus fruits.
Nutrition Data
The recommended serving size for Kraft's Velveeta cheese is 28 g. A 1-lb. block of Velveeta has about 16 servings. Each serving contains 80 calories, 50 of which are derived from fat. One serving of Velveeta has 6 g of fat, four of which are from saturated fats and none of which are from trans fats. The recommended serving size contains 25 mg cholesterol and 410 mg sodium. Each serving contains 3 g of carbohydrates, 2 of which are derived from sugars. Each serving of Velveeta cheese contains 5 g of protein. One serving of Velveeta cheese offers 6 percent of the daily recommended intake of vitamin A and 15 percent of the recommended daily intake of calcium. Velveeta cheese is not a source of dietary fiber, vitamin C or iron.
Warning
Velveeta cheese contains milk and milk byproducts which can upset stomachs of individuals who are lactose intolerant or who have an allergy or sensitivity to milk. The University of Nebraska-Lincoln identifies milk as one of the "big eight" allergens -- allergens responsible for 90 percent of allergic reactions in the United States. Annatto is another potential allergen present in Velveeta cheese. According to a fact sheet published by the Food Intolerance website, annatto is responsible for as many allergic and intolerance reactions as artificial colors, despite its status as a natural coloring additive. If you experience a negative reaction including hives, itchiness, headache or other unpleasant effects, seek medical attention to determine the cause and treatment. If you experience an allergic reaction including swelling of the face, lips or throat, seek emergency medical care.
Considerations
Velveeta cheese is not a vegan product. It contains animal byproducts derived from milk. According to Kraft's website, Velveeta cheese is not considered a certified kosher product.