The first place most people turn to when looking to increase their muscle mass is either a resistance machine or some type of free weight, such as a dumbbell or barbell. If you use this equipment it's a sure-fire way to tax your muscles and make them grow, but you can also make incredible progress using your own body weight.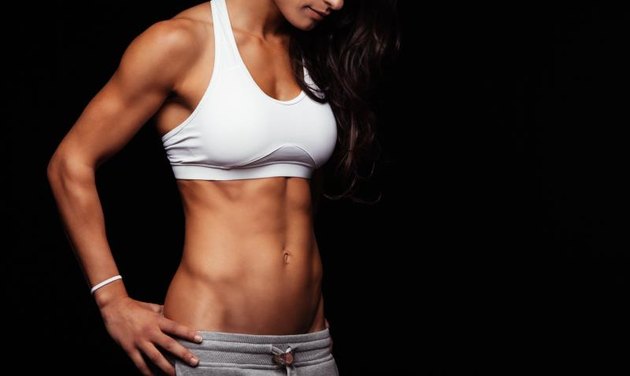 The push-up is a body weight exercise that specifically targets the chest, shoulders and triceps muscles. It's one of the best body weight exercises if you're looking to gain muscle mass because there are so many different variations that you can use to keep pushing your muscles.
Diligent work means that overtime, you progress from a push-up with your knees on the ground to an impressive one-handed push-up with extra weight on your back. If you want to gain muscle mass it's important that you can keep making the exercise more difficult to force the muscles to keep growing and adapting.
How To Gain Muscle
Gaining muscle mass can be a difficult process. You have to stress the muscle and then provide it with the proper nutrients to help it rebuild. This sounds simple enough, but actually doing the work can be very tough! Pushing your muscles to the point that they will grow becomes more difficult over time as your body adapts to the workout, so it's important to progressively make your workouts more challenging.
Progressing the Push-Up
In order to keep challenging your muscles with the push-up you need to keep making the push-up more difficult. Perform push-ups from the knees, from a standard plank, with a weight on your back or one-armed. In order to pick the right type of push-up, judge it by the amount of repetitions that you can do.
Changing the surface on which you do push-ups can alter the as well, according to a small study from Wichita State University. They found that push-ups with hands on a BOSU ball were more difficult than regular push-ups, but performing push-ups with your feet on a bench and hands on the ground was more difficult than with hands on the BOSU ball.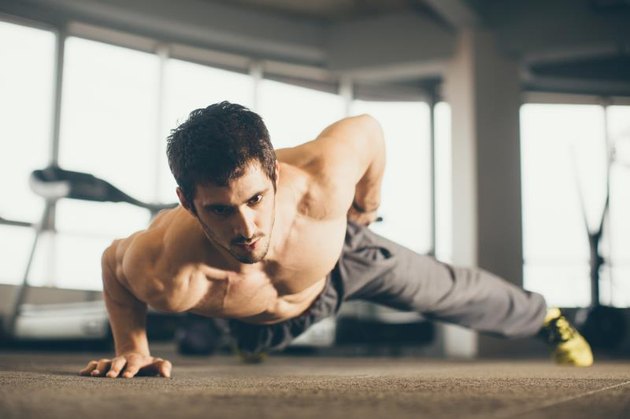 Typically, people trying to gain muscle do exercises that allow them to do 10 to 20 repetitions. In that repetition range, the exercise is difficult enough that you can't do a very high amount of repetitions, but easy enough that you can use proper form and stress the muscle sufficiently. In order to gain muscle mass, the exercise should be difficult enough that it isn't an endurance exercise, which is usually considered to be above 20 repetitions.
Measuring Progress
Start your push-up workouts by doing as little work as possible while still getting results. Measure how much muscle mass you're gaining by looking in the mirror or using a tape measure to get a concrete number for the size of your arms, chest and shoulders.
Once you notice that you aren't gaining any more muscle, either increase the difficulty of your push-ups, increase the amount of sets that you do per workout or increase the amount of days per week that you do a push-up workout. However, if you don't see progress immediately don't panic, a 2007 study from the Journal of Applied Physiology shows that it can take up to three weeks of training for your muscles to start growing.
Conclusion
The final piece of the puzzle is to rebuild the muscle that you damaged while doing push-ups. In order to recover and build new muscle tissue, you need to consume protein. A 2004 study published in Nutrition suggests that you don't need much -- only 12 to 15 percent of your calories for the day need to come from protein in order to get the muscle-building benefits. Combining your push-up workout with proper nutrition will help you gain muscle mass in the main areas that the push-up works -- the chest, shoulders and triceps.