In addition to being one of your visible organs, the skin is also the largest. So it should come as no surprise that most individuals want to keep your skin looking its best. Unfortunately, skin can occasionally become loose and sag, often as a result of sudden weight loss. While some individuals may turn to surgery when it comes to getting rid of loose skin, this doesn't necessarily have to be the case. In fact, making changes to your diet and exercise routines can help you treat this condition without going under the knife.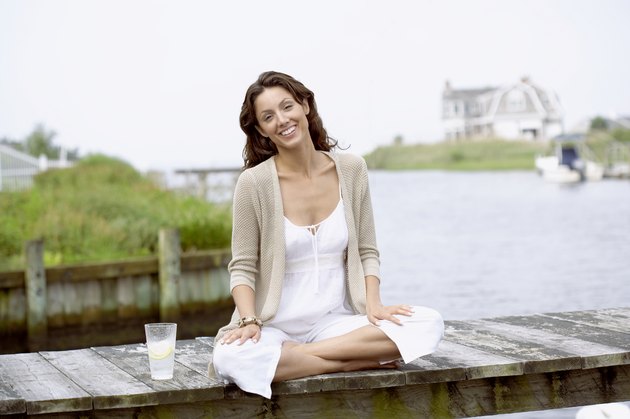 Step 1
Start a resistance-training program. According to the American College of Sports Medicine, weight lifting can be effective when it comes to increasing muscle size, "filling out" loose skin, and reversing the appearance of sagging. Be sure to choose exercises that target muscle groups in problem areas. Those who want to get rid of loose skin on their chest should perform pushups, chest flyes or dumbbell chest presses. Perform two or three sets of 10 to 15 repetitions of these exercises for optimal results when it comes to getting rid of loose skin.
Step 2
Maintain adequate hydration. In "Nutrition Therapy and Pathophysiology," Marcia Nelms, Kathryn Sucher, and Sara Long report that dehydration is associated with the development and exacerbation of loose skin. Therefore, maintaining appropriate fluid stores can be an effective way to treat this condition. Drinking at least half of your body weight in fluid each day helps maximize skin elasticity, and is essential for those who want get rid of loose skin without surgery. Water, milk, fruit juice and other similar beverages are all acceptable when it comes to meeting daily fluid requirements.
Step 3
Follow a healthy diet. Incorporating healthy types of food, and eliminating others, is important for those who want to get rid of loose skin without surgery. For best results in this process, consume plenty of nutrient-dense foods, including whole grains, fruits and vegetables. Avoiding diuretics, such as soda, coffee and alcohol -- which increase fluid losses from the body and may exacerbate loose skin -- can also promote beneficial results when it comes to the management of this condition.
Tip
Be sure to talk with your healthcare provider before starting an exercise program to ensure you are healthy enough for physical activity