Serotonin is a hormone made between the brain and digestive tract that also works as a neurotransmitter. Its primary role is to help you feel calm, promote sleep and cause blood vessels to narrow. People with low serotonin levels suffer from insomnia, depression or both. Some foods are rich in serotonin and many are rich in substances that increase the production of serotonin.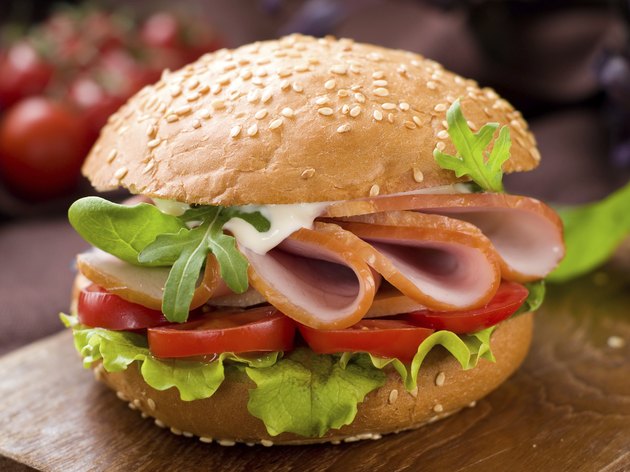 Proteins and Oils
Serotonin made by the body is called 5-hydroxytryptophan, or 5-HTP, and then is made into tryptophan. Tryptophan naturally exists in many proteins such as turkey, eggs, beans and fatty fish such as salmon, sardines and herring. The richest source of 5-HTP is the African Griffonia bean.
Flaxseed oil contains both tryptophan and omega-3 fatty acids, which are important for cardiovascular health. According to the Muscle Health Fitness website, people who take a few tablespoons of flaxseed oil a day can improve their mood.
Fruits and Vegetables
Serotonin naturally exists in kiwi fruit, plantains, bananas, sour cherries, pineapples, tomatoes and plums. Tart or sour cherries are also high in tryptophan and also make DHEA, an important hormone that increases melatonin and helps the body have deep and restful sleep. Many people seeking serotonin-rich foods may also be looking to increase their melatonin levels so they can sleep better. Muscle Health Fitness recommends eating sour cherries before bed or taking melatonin supplements, which are found in the vitamin aisle of stores.
Grains
According to the "Journal of Molecular Medicine," foods high in B vitamins — specifically B6 — build serotonin. Cereals, rice and breads are rich in B vitamins. Complex carbohydrates, such as buckwheat, are often rich or enriched with B vitamins. A turkey sandwich on enriched bread with tomatoes and some fruit on the side would be an excellent serotonin-rich meal.
Balanced Meals
It is important when making any significant dietary change to consult your doctor or nutritionist. There are many foods that are rich in serotonin that you may be eating already. If you are seeking more serotonin to improve your mood, you also have to consider how the foods will interact with your blood sugar. Simply eating a lot of vitamin B–rich carbohydrates can cause blood sugar spikes and crashes, leaving you feeling worse. Balance carbs and proteins for a balanced and healthy body.