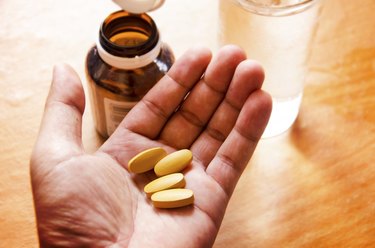 Creatine is a compound that is naturally produced by the body to supply energy to muscles. Creatine is produced by the liver, pancreas and kidneys and it's found in many foods especially meats. Creatine is the main energy suppy for muscles, it helps muscles grow and it fights fatigue in muscles. Creatine supplements come in several forms, but the easiest to take is creatine pills.
Step 1
Take either 20 to 30g of creatine per day for 5 days or take 0.3g of creatine per kilogram of body weight. Most pills contain 5g, therefore most people would take 4 to 6 pills per day during this phase.
Step 2
Divide the dosage over the day. Do not take all of the pills at once. Taking the pills with meals can help your body absorb it.
Step 3
Eat plenty of carbohydrates like breads and pastas during this phase. This helps ensure that your body absorbs and uses as much of the creatine as possible.
Creatine Maintenance Phase
Step 1
During the maintenance phase, take 5g per day, which is usually 1 pill.
Step 2
Stay in this phase for no less than 20 days and not more than 30 days.
Step 3
During this phase, it's best to take creatine before physical activity or before a workout.
Step 1
After taking creatine for about one month, it is best to flush your system completely and stop taking any creatine pills for a one month. Many doctors and sport practitioners say that after one month there are no extra benefits by taking creatine.
Step 2
Continue your regular workouts and training during this phase. Your mass and muscle development will not be hampered because the creatine supplements will still be in your body.
Step 3
After the one month flush period, you may begin these steps again with another cycle, starting with the loading phase.