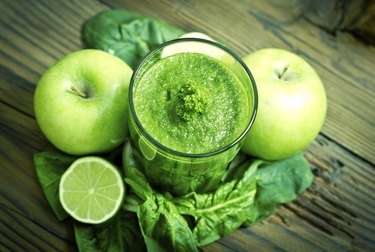 Green juice boosts your health in a variety of ways. There are different ways to prepare the juice, which typically includes vitamin-rich fruits and vegetables such as celery, spinach, cucumber, lemon, ginger, parsley and sprouts. The version favored by Dr. Mehemet Oz, host of the Dr. Oz show, is prepared in a blender. Others utilize a juicer to make the drink.
Fiber
The blended green juice recipe favored by Dr. Oz, also a surgery professor at Columbia University College of Physicians and Surgeons in New York, is chock full of fiber. Fiber aids digestion, prevents constipation, and helps you control your weight because it adds bulk to your diet to make you feel full. Oz's drink blends the juices of lemon, lime, apple, parsley, ginger root, cucumber, celery and spinach. Drinks made in a juicer do not have the benefit of fiber.
You should consume 38 grams of fiber if you are a man aged 19 to 50 and 25 grams of fiber if you are a woman of the same age. After age 50, men need 30 grams of fiber and women need 21 grams according to U.S. Dietary Reference Intakes guidelines.
Chlorophyll
Green juice is rich in chlorophyll, which gives greens their color. Chlorophyll helps your body detoxify. For example, it may inhibit absorption of environmental pollutants like dioxin and also help your body excrete them quicker, says K. Morita, lead author for a study published in "Environmental Health Perspectives."
Chlorophyll also enhances oxygen transport in your body and is a top nutrient for balancing your body's pH by helping to reduce acidity. Low-grade acidosis may contribute to fatigue as well as other health concerns, including kidney stones and lower growth hormone levels, which lead to more body fat and loss of lean muscle mass. Author Gillian McKeith includes carrot, celery, cucumber, spinach, fennel, ginger root, parsley and alfalfa sprouts in her version of the drink. Both McKeith's and Oz's versions of the green juice have the benefit of chlorophyll.
Antioxidants
Green juices are antioxidant-rich beverages, notes Estitta Bushkin and Gary Bushkin in the "Better Nutrition" magazine article, "Anti-Aging with Antioxidants." Antioxidants protect your cells from damage by free radicals, which are produced when your body breaks down food and caused by exposure to environmental factors like tobacco smoke. Free radicals may have a role in diseases such as cancer and heart disease. Both versions of the juice offer the benefit of antioxidants.