Muscle Milk is a high-protein supplement used by athletes and exercise enthusiasts to help boost protein intake. This line of nutrition products includes shakes, powdered mixes and bars. As a source of calories, any one of these products will make you gain weight, if they push you over your daily calorie needs. Consult your doctor before adding nutrition supplements such as Muscle Milk to your daily routine.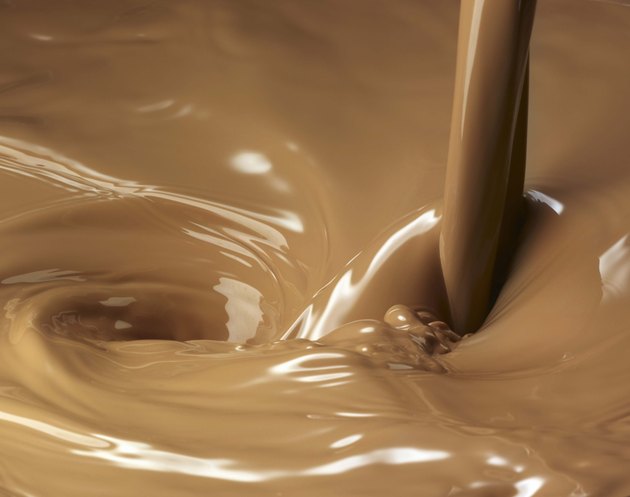 Muscle Milk Products
Muscle Milk offers a wide range of products to not only suit fitness needs, but taste and convenience, as well. Muscle Milk's ready-to-drink shakes come in a variety of formulas, flavors and calorie levels, ranging from as few as 100 calories a serving to as many as 340 calories a serving. The powders also come in a variety of formulas, including those intended to help limit calorie intake and those intended to increase calorie intake, with calories ranging from 75 calories to 160 calories per scoop. Muscle Milk nutrition bars contain 170 calories to 360 calories, depending on the type of bar.
Calories Are Key to Weight Gain
Whether your weight goal is to gain, lose or maintain -- calories count. To maintain weight, the number of calories you eat must equal the number of calories your body expends. With weight gain, you must consume more calories than your body expends. In general, eating an extra 500 calories a day leads to a 1-pound weekly weight gain. If you're using Muscle Milk products and consuming more calories than your body needs, you'll gain weight. The source of the calories, whether it's from Muscle Milk products or regular food, doesn't change that fact.
Muscle Milk and Weight Gain
If your goal is weight gain, the Academy of Nutrition and Dietetics suggests that you include foods that are nutrient-rich and calorie-dense. Muscle Milk products are a good source of protein and calories, but some of the products, such as the bars, are a source of saturated fat and are not a good source of vitamins and minerals. And unless you're working out, the extra protein might not be necessary, and might even be harmful.
Tips for Using Muscle Milk to Gain Weight
To gain weight healthfully with Muscle Milk, use the supplements as part of a balanced diet that includes a variety of nutrient-rich foods from all the food groups, to ensure that your body gets all that it needs. The drinks and bars make convenient snacks before or after a workout, or in-between meals. In addition to making a drink, you can add Muscle Milk powders to your smoothie, milkshake, yogurt or morning cereal to create nutrient-rich, calorie-dense foods.
The Dangers of Too Much Protein
Although protein is an essential nutrient, an excess of protein is bad for your health. A 2006 review article published in the International Journal of Sport Nutrition and Exercise Metabolism stated that high intakes of protein can lead to elevated amino acid and ammonia levels, nausea and diarrhea, and may even lead to death. The authors of the article suggest that you limit your daily protein intake to 25 percent of your calories. For example, if you're eating 2,800 calories a day to gain weight, your protein intake should not exceed 175 grams a day. Pay close attention to the protein content not only in Muscle Milk, but also in the other foods you eat, to stay in balance. People with some types of health problems, such as kidney disease, may need to limit protein and should consult a doctor or dietitian when making dietary changes.