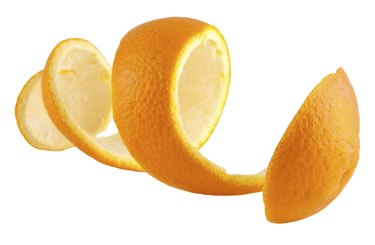 With a name that comes from the rich red color and a combination of ingredients with a spirited flavor, Red Zinger tea is a well-loved tea manufactured by the Celestial Seasonings Corp., based in Boulder, Colorado. In addition to being calorie- and fat-free, Red Zinger supplies several nutrients and a range of potential health benefits.
What Puts the Zing in Red Zinger
Red zinger tea gets its color from the hibiscus flowers used to prepare the blend. The tea also contains small amounts of rose hips, peppermint, lemongrass, orange peel, lemon verbena, licorice and wild cherry bark, reports the Celestial Seasonings website. Each of these ingredients contributes to the zingy taste of the tea, but some also provide certain health benefits.
Nutrition and Dietary Benefits
Red Zinger tea is fat-free and contains zero calories, if you don't add milk or sugar. The tea doesn't contain any preservatives or artificial ingredients, which makes it attractive to consumers looking for ways to cut their intake of food additives. The tea is caffeine-free and doesn't contain any gluten either. It's also a kosher product.
Provides a Health Boost
The hibiscus in Red Zinger tea might boost your heart health. According to a 2010 article published in the "Journal of Nutrition," hibiscus might help reduce blood pressure, which can help lower your risk of heart disease. The rose hips has advantages, too, and might be effective in reducing the symptoms of rheumatoid arthritis, according to a 2010 article published in "Phytomedicine: International Journal of Phytotherapy and Phytopharmacology." Peppermint is an antioxidant, according to a 2006 article published in "Phytotherapy Research," which means the peppermint in Red Zinger tea might help protect your overall health.
To Brew, Or Not to Brew
Ask your doctor about the safety of herbal teas before brewing yourself a cup. Certain people shouldn't consume the extracts in Red Zinger tea. For example, women who are pregnant shouldn't use hibiscus, rose hips, lemongrass or licorice, all of which are in Red Zinger tea. If you're breast-feeding, always ask your doctor which herbal teas are safe. Talk to your doctor about any medications or other herbal supplements you're taking so he can determine if Red Zinger tea is safe for you.