Acute diverticulitis is the third most common digestive system disease for which people are admitted to the hospital. Diverticula describes the formation of small sacs that protrude outward from the large bowel. Acute diverticulitis occurs when diverticula become inflamed. Symptoms vary but typically include persistent pain and tenderness in the lower left abdomen, fever and bloating. Treatment varies according to the severity of the episode but includes resting the bowel for a period of time by modifying the diet until the condition resolves. Knowing how to plan meals with diverticulitis may be helpful in facilitating the healing process.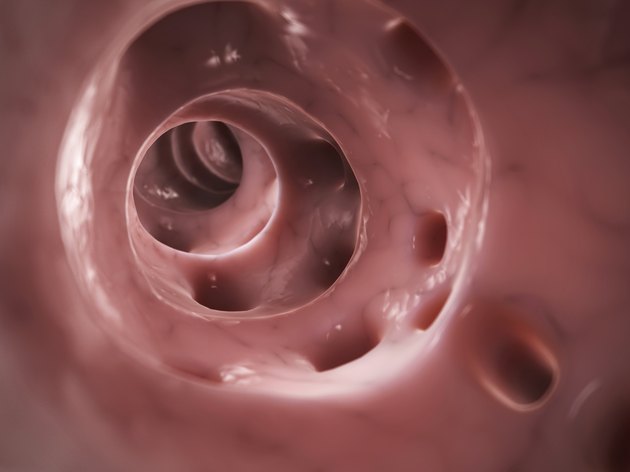 Clear Liquid Diet
For inpatient and outpatient therapy with acute diverticulitis, it is imperative to follow the treatment recommendations of the doctors and dietitians. A clear liquid diet will likely be recommended, which is preceded by a period of no food or liquids in severe cases. Clear liquids include those that can be seen through at room temperature. Examples of foods in a clear liquid diet include water, soda pop, clear broth, tea, flavored gelatin, frozen ice pops, black coffee and clear fruit juices that do not contain pulp, such as cranberry, grape and apple. Choosing 4 to 5 clear liquid foods for each meal will provide calories and hydration. Improvements are often seen within 2 to 4 days.
Full Liquid Diet
Advancement to a full liquid diet provides more nutrition, if it doesn't cause digestive system upset -- such as nausea, vomiting or pain. A full liquid diet is easily digested and continues to provide bowel rest. Foods on a full liquid diet include all clear liquids plus nutritional supplement shakes, strained cream soups, puddings, ice cream, yogurt, milkshakes, milk, butter and cooked refined cereals, such as oatmeal, grits or cream of rice. A sample menu of meals might include: -- Breakfast: nutritional supplement shake, orange juice and coffee with milk or cream. -- Lunch: strained cream of chicken soup, milk, ice cream and tea. -- Dinner: strained creamy tomato soup, pudding, milk, flavored ice pop, and tea with milk and honey.
Low-Residue Diet
A low-residue diet, also known as a low-fiber diet, typically follows the full liquid diet in continuation of bowel rest during an episode of acute diverticulitis. The low-residue diet adds low-fiber foods, including cheese, white-flour breads, crackers and pasta, white rice, applesauce and canned fruits, well-cooked vegetables, poultry, fish, eggs, mayonnaise and smooth nut butters. Examples of low-residue meals include: -- Breakfast: soft-cooked egg, white toast with creamy peanut butter, canned fruit, cranberry juice and coffee with milk and/or sugar. -- Lunch: tuna salad on white bread, pudding, applesauce and a milkshake. -- Dinner: tomato soup, white dinner roll, baked potato without the skin, butter, yogurt with honey and tea.
Next Steps, Warnings and Precautions
Once an episode of acute diverticulitis resolves, your doctor will advise you about advancing from a low-residue to a regular diet, the timing of doing so and any special dietary instructions. Proper meal planning can be crucial in recovering from acute diverticulitis.
Serious complications can develop with acute diverticulitis, so it's important not to ignore the symptoms and to seek medical care right away. If typical symptoms are accompanied by others -- such as persistent vomiting, severe abdominal pain or bloating, decreased urination, dizziness, weakness or failure to pass gas -- seek emergency medical care.