Even if you're healthy, you should not consume more than 300mg of cholesterol a day. Your body makes its own cholesterol and adding to it can result in heart attack or stroke when it clogs your arteries and prevents adequate circulation. If you have high cholesterol levels, you have to be especially careful about what you eat. While lunch meats are usually high in saturated fats and cholesterol, there are some exceptions. Always check the fat and cholesterol content on any product you buy, because it can vary a great deal among brands and how they're processed. For example , pastrami is ordinarily laden with saturated fat and cholesterol, but a 98-percent fat-free product has lower fat and cholesterol content than fat-free ham.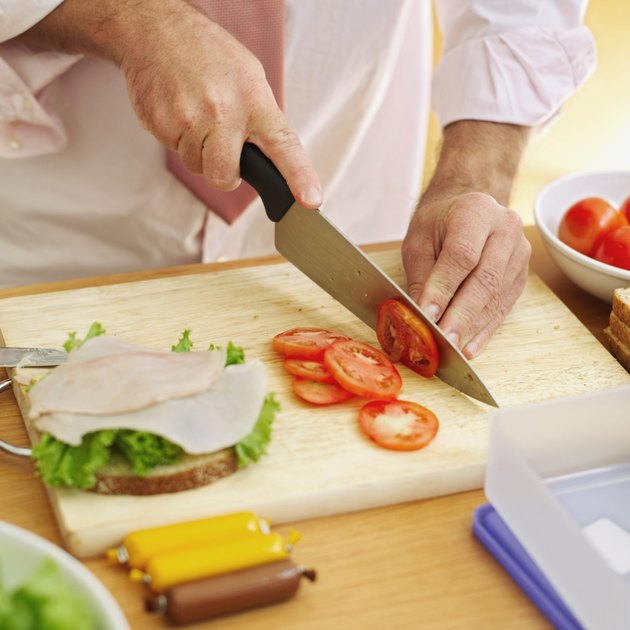 Chicken
Chicken tends to be higher in fat content and cholesterol than turkey, except when it comes to lunch meat. Two slices of chicken roll have 26mg of cholesterol. The same serving of Oscar Mayer oven-roasted fat-free chicken breast has only 12mg of cholesterol and zero saturated fat, according to the USDA National Nutrient Database for Standard Reference.
Turkey
One slice of turkey roll has negligible saturated fat and only 9mg of cholesterol, according to the USDA National Nutrient Database for Standard Reference. One serving of Louis Rich turkey breast, oven-roasted and fat-free, has the same fat and cholesterol levels.
Ham
The Alabama Cooperative Extension System gives any lunch meat that is at least 95 percent fat-free a green light for being "heart smart," ham included. One slice of Oscar Mayer 96-percent fat-free cooked ham has zero saturated fat and 10mg of cholesterol.
Bologna
The cholesterol value in bologna varies depending on whether it is beef, turkey or fat-free. One slice of regular beef bologna has 16mg of cholesterol, while the same serving of low-fat beef bologna has 12mg. A similar serving of turkey bologna has 1.2g of saturated fat and is much higher in cholesterol at 21mg, according to USDA National Nutrient Database for Standard Reference.