Normal heart rate values vary widely depending on factors such as age, weight and physical activity. The average range falls between 60 to 100 beats per minute, explains MayoClinic.com, leaning toward the lower end during rest and the higher during strenuous activity. Some herbal and nutritional supplements can raise or lower your heart rate both beneficially and detrimentally. Do not take supplements without speaking to your physician first, as they can interact with some medications or worsen medical conditions.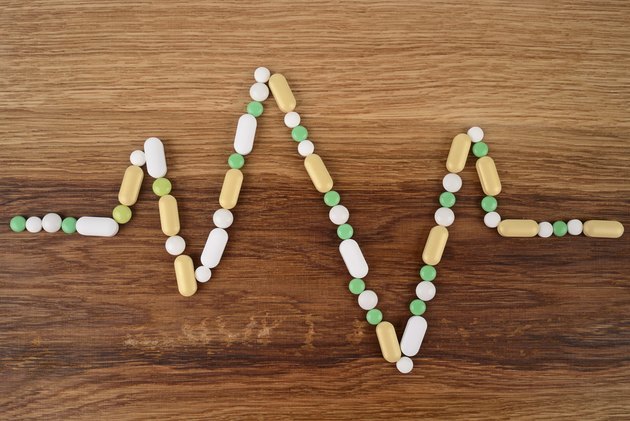 Potassium
The text "Fundamentals of Nursing" explains that potassium plays a vital role in the transmission of electrical impulses within the heart. Too much or too little potassium can cause irregular heart rate. Potassium deficiency, also known as hypokalemia, usually stems from losing too much potassium through the urine or intestines rather than lack of the mineral in diet. Hyperkalemia, or excessive potassium in the blood, can be caused by medical conditions such as kidney disease or diabetes as well as by too much potassium in the diet. Both conditions are potentially life-threatening and require medical intervention.
Ephedrine
Ephedrine comes from an evergreen plant, Ephedra, primarily found in Central Asia and Mongolia, according to the National Center for Complementary and Alternative Medicine, or NCCAM. In 2004, the U.S. Food and Drug Administration banned the sale of ephedrine in the United States due to the risk of cardiovascular complications. The ban did not extend to use in traditional Chinese medicine or conventional herbal teas, however. Ephedrine acts as a stimulant and may significantly increase heart rate or blood pressure.
Bitter Orange
The bitter orange tree is native to Asia, although it now grows throughout the Mediterranean, California and Florida, according to NCCAM. Traditional Chinese medicine uses oil from the leaves and flower to treat nausea and indigestion. The chemicals in bitter orange may speed up your heart rate and increase blood pressure. NCCAM cautions that there have been reports of otherwise healthy patients experiencing heart attacks and strokes after using bitter orange. After the FDA ban on ephedrine, some diet pill manufacturers substituted the banned ingredient with bitter orange, although there is no evidence that it is any safer.
Magnesium
Magnesium serves several important functions in the body, including contracting and relaxing the muscles, producing and transporting energy throughout the body and aiding in the production of protein, according to MedlinePlus. A moderate magnesium deficiency can cause rapid heart rate. Supplements may be prescribed to boost or maintain levels of magnesium. In rare cases, these supplements can significantly slow your heart rate. If this occurs, contact your physician immediately.
Glucosamine
Glucosamine is a compound found in healthy cartilage, according to MayoClinic.com. As a supplement, claims pertaining to benefits include relief from several forms of arthritis, improved blood sugar control in people with diabetes and assistance in knee pain rehabilitation. Evidence is limited and research is ongoing, however, to determine the validity of these claims. Glucosamine supplements may cause heart palpitations, increased heart rate and elevated blood pressure.