Candida albicans is a type of fungus with yeastlike properties. Certain foods may encourage it to grow, leading to an overgrowth and infections. While scientific evidence regarding the effectiveness of candida diets is lacking, their proponents claim that particular dietary changes can help restore a healthy balance of candida and other bacteria in your body. The first phase gets you started. Before making significant dietary changes, seek approval from your doctor.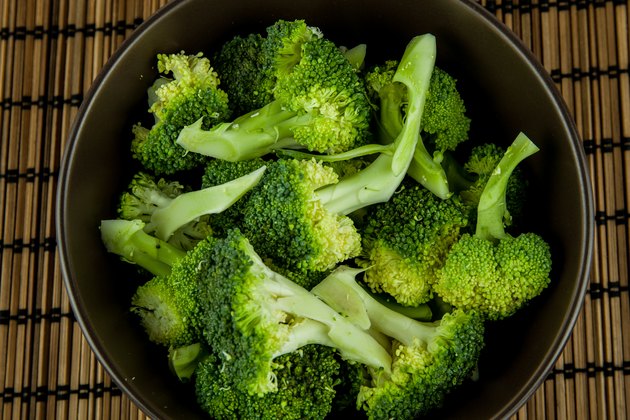 Phase 1 Explained
The first phase of many candida diets is also called the detox or cleansing phase. It is intended to help you get rid of excess yeast so you can return your yeast and bacteria balance back to normal. Proponents of candida diets say this phase also helps rid your body of the toxins associated with an overgrowth of candida albicans. The goal is to flush and clean out your colon to destroy as much of the yeast and fungus as possible. This phase lasts for just a few days, according to Lisa Richards, creator of TheCandidaDiet.com.
What You'll Eat and Drink
This phase is the most strict of the diet as you're limited to foods that help rid your body of toxins. For example, you'll eat plenty of raw salads and steamed vegetables, according to Richards. Herbs, spices and oils are also permitted, and these will help add flavor to your vegetables. Wheat grass and vegetable juices are also approved. You'll also be drinking more water than you might be used to as an essential way to get rid of the toxins.
Foods and Drinks That Are Off-Limits
Anything with added sugar, such as soda and desserts, is typically off-limits during the first phase of a candida diet. This is because added sugars may encourage candida growth. Foods with honey and syrups aren't allowed on the diet, either. Fruit, including fresh and dried, though highly nutritious, isn't recommended during the first phase of the diet. Aged cheese, fermented foods, wheat, rye, barley and any foods with traditional yeast are also generally restricted during the first phase.
Potential Risks of the Candida Diet
If you suspect that your symptoms could be due to a yeast overgrowth, always speak with your doctor before making diet and lifestyle changes. Your physician will recommend the most effective methods for you based on your current state of health and your health history. The first phase of candida diets tends to be highly restrictive, which can cause you to feel deprived, making it difficult to stick to. Because the diets haven't been proven effective, you may needlessly avoid healthy foods. Further, restricting your intake of certain foods, such as fruits, can leave you deficient in key nutrients such as vitamin C and potassium.