Oranges are relatively low in calories and an excellent source of various vitamins and nutrients, especially vitamin C. Orange juice provides more vitamin C than the whole fruit, but contains less dietary fiber. According to a report from Iowa State University in April 2013, oranges are consumed more than any other fruit in the United States.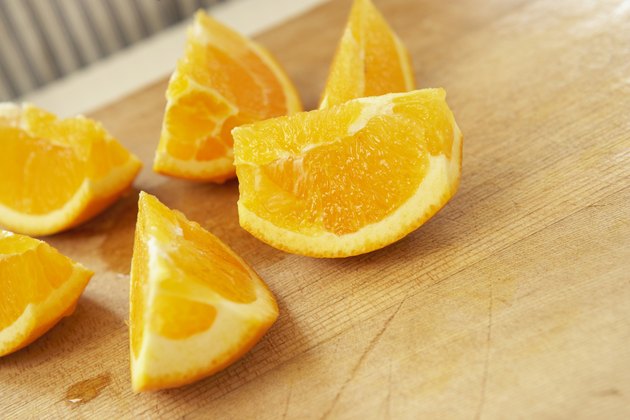 Calories
One medium raw orange contains about 62 calories, according to the USDA Dietary Guidelines for Americans; a cup of raw orange sections has about 85. If you prefer orange juice, 1 cup of fresh squeezed juice contains 112 calories, and 1 cup of canned unsweetened juice contains 105. One cup of orange juice prepared from frozen concentrate, unsweetened and diluted with three parts water, has about 112 calories.
Size
Oranges typically range in size from 2 to 3 inches in diameter. The calorie count for one whole orange given here is for a medium-size orange about 2 5/8 inches in diameter and weighing about 131 grams. Larger oranges have a few more calories, and smaller ones have a few less.
Considerations
Oranges are perhaps best known for their abundance of vitamin C. However, they are also a good source of B vitamins, including vitamin B1, vitamin A, calcium, potassium and folate. Oranges are also a very good source of dietary fiber. According to a report in a 2009 issue of "Nutrition Reviews," high fiber intake helps lower your risk of heart disease, high blood pressure, diabetes and obesity.
Benefits
The nutritional benefits of oranges are numerous. The high content of vitamin C plays a significant role in protecting the immune system and reduces the risk of cancer, heart disease, cataracts, gout and stroke according to the Linus Pauling Institute. Other indicated health benefits of oranges include helping prevent ulcers and kidney stones, lowering cholesterol and reducing severity of various inflammatory diseases such as rheumatoid arthritis, osteoarthritis and asthma.
Features
Firm and heavy oranges with a smooth textured skin have more juice than those that are lighter in weight or spongy. Typically, small oranges are juicer than larger ones, and oranges with thin skins are juicer than those with thick skins. Fully ripened oranges contain the most antioxidants. You can store oranges either in the refrigerator or at room temperature, depending on how you prefer them. They should last about two weeks either way.