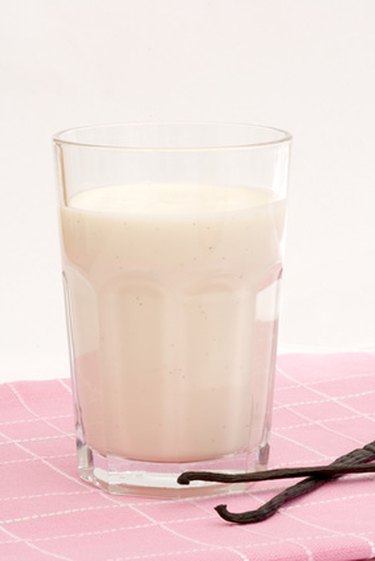 Kefir grains are actually a starter culture that is used to make several different food products, including yogurt, cheese and bread. The culture is used in a similar way that yeast is used and it must have a portion of an already established culture in order to generate more grains. Unlike yeast-based products, those made with kefir are lactose free and don't encourage the growth of yeast, which can cause allergic reactions in some individuals. Kefir grains can be made into a variety of delicious foods and can even be eaten alone.
Step 1
Add kefir grains to a smoothie. In a blender or food processor, mix 1/3 cup of strained kefir grains into 2/3 of a cup of your favorite juice and 1/2 cup of low fat yogurt. Drop in 1 tsp. of pure vanilla extract and blend until smooth. Add more juice or yogurt to either thin it out or to make it thicker. For a frozen version, pour the mixture into a freezer-safe container and put in the freezer for an hour, or until crystals begin to form on the edges of the smoothie. Blend the frozen mixture into a smoothie-shake and enjoy for dessert or a snack.
Step 2
Add fresh strained kefir grains to salad dressing in place of yogurt or milk. According to Dom's Kefir Site, kefir grains can help people who have serious digestive problems such as irritable bowel syndrome and ulcerative colitis. Kefir grains contain probiotics, which are microbes that are commonly found in the digestive tract but may be deficient in certain individuals. Use your own dressing recipe or even a store-bought version and add 1/4 cup of kefir grains, mixing until blended. Pour over fresh gourmet greens, seedless cucumber and baby tomatoes and enjoy the subtle flavor of kafir grains.
Step 3
Mix kefir grains into eggs. Add 1/4 cup of kefir grains to your favorite scrambled egg, egg salad or omelet recipe. Kefir grains can be used as an egg substitute for individuals who want to consume more beneficial bacteria and less cholesterol containing yolks. Kefir grains can also substitute for egg whites in ice cream recipes, substituting for the whites in part or whole (see Resources).
Step 4
Spread kefir "cheese" on your favorite whole grain bread, crackers or toast. Kefir cheese is easily made by placing 1 cup of kefir grains into a strainer or a cheesecloth bag. Place the strainer or bag over a container and allow the liquid to drain for several hours or overnight. Mix the drained kefir with chives, herbs or spices and use it just as you would cream cheese.
Step 5
Layer strained kefir grains with granola, fresh fruit, nuts, and seeds in a sundae or parfait glass and drizzle honey on top. Make several of these kefir parfaits and store in individual portions in air tight containers in the fridge. Carry kefir with you for a healthy snack at lunch or between meals.
Warning
Check with your doctor before making dietary changes.