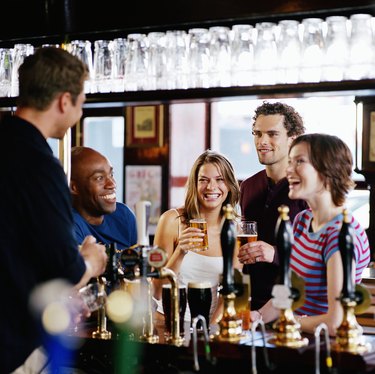 Americans over the age of 21, drank on average, 28.2 gallons of beer in 2012, according to statistics from the Beer Institute. If you drink regular beer, that's 46,107 calories, which is equal to more than 13 pounds. Americans already get more calories than they need, so replacing your regular beer with a low-calorie brew, can cut calories and help you lose or maintain a healthier weight.
Ultra Low-Calorie
If you're a super calorie-conscious drinker, check out some of the very low-calorie beers brewers have concocted, just for you. Budweiser Select 55 is one of the lowest-calorie beers, with only 55 calories per 12-ounce serving. Another low-calorie beer, Miller Genuine Draft, contains 64 calories in 12 ounces. For imported-beer aficionados, your lowest-calorie choice is Beck's Light, which has 64 calories per 12-ounce serving.
Light Beers
Brewing companies also offer a number of light beer options. These types of beers are a little higher in calories than the very low-calorie beers, but contain fewer calories than their original regular beers. Michelob Ultra, with 95 calories in a 12-ounce serving, is a low-calorie light beer option. Miller Lite is also a low-calorie choice, with 96 calories per 12-ounce serving. Molson Light is a low-calorie imported beer, with 88 calories per serving. Amstel Light is another low-calorie imported beer option, with 99 calories per 12-ounce serving.
Lower-Calorie Regular Beer
On average, a 12-ounce serving of regular beer contains 153 calories. But not all regular beers are that high in calories. Bud Ice, for example, contains 123 calories per 12-ounce serving. Busch Beer is also a lower-calorie regular beer with 133 calories per serving. Cerveza Carta Blanca from Mexico is also lower in calories, with 128 calories in a 12-ounce serving. You might find this surprising, but bottled Guinness is also fairly low in calories for a regular beer, with 128 calories per 12-ounce serving.
Low-Alcohol Beer
Low-alcohol beers also tend to be lower in calories. Pabst Extra Light Low Alcohol has 67 calories in a 12-ounce bottle and is just 2.5 percent alcohol. O'Douls, which is considered a non-alcoholic beer, is also very low in calories and alcohol. One serving of this beer contains 70 calories and has a 0.4 percent alcohol content.