Sinus headaches are caused by inflammation in the sinus cavity from the common cold, environmental factors or allergies. Sinus headaches are a dull, deep pain in the forehead that is worse upon waking in the morning and progressively improves throughout the day, according to the University of Maryland Medical Center. Various treatments are available for people suffering from sinus headaches. According to the National Headache Foundation, caffeine has shown to increase the effectiveness of most over-the-counter pain relievers to treat sinus headaches.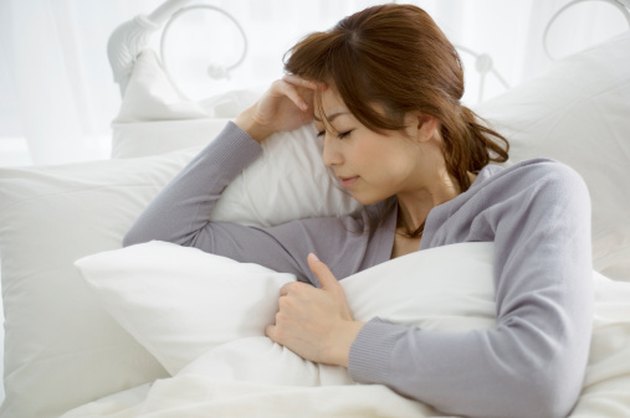 Cause
Sinus headaches cause pain in the eyes, inner-ear and forehead due to excessive pressure placed on the surrounding organs from the swollen sinuses. Your sinuses become inflamed from infection; changes in air pressure, weather or elevation; and allergic reactions. The irritated sinus cavity swells due to increased blood flow to the sinus cavity. Talk with a doctor to identify the cause of the sinus headache fro proper treatment.
Symptoms
Common symptoms of a sinus headache are a fever, coughing, fatigue, pain and pressure in the head, pain that worsens when bending down or standing up quickly, achy teeth, and yellowish-green nasal discharge, according to MayoClinic.com. If symptoms persist for more than 10 days, you develop a fever above 100.5 degrees or standard over-the-counter pain medications do not work, make an appointment with a doctor.
Caffeine Treatment
Using 130mg of caffeine combined with an over-the-counter pain reliever increases the pain reliever's effectiveness around 40 percent, according to the National Headache Foundation. This is because the caffeine helps the body absorb the medication better and caffeine dilates blood vessels, to help alleviate pain. In some cases, you may be able to use less medication because of caffeine's ability to increase the medication's effectiveness. Talk with a doctor before modifying any medications you are currently taking.
Other Treatments
Other treatments for a sinus headache include the use of steam, decongestants and increased fluid intake, according to the University of Maryland Medical Center. Stand in a bathroom with a hot shower running, to fill the room with steam, for 10 to 15 minutes. Steam helps to moisten and soothe the sinus cavity. Decongestants are used to decrease inflammation in the sinus cavity to encourage sinus drainage. Increase fluid intake to thin mucus, promoting sinus health.
Consideration
A headache can develop as a result of a caffeine withdrawal. According to the National Headache Foundation, if you consume about 500mg of caffeine every day, you could experience a headache if you miss that particular amount of caffeine one day.
Is This an Emergency?
If you are experiencing serious medical symptoms, seek emergency treatment immediately.