About 34 percent of Americans surveyed who attempted to lose weight tried to do so by using weight loss supplements, reports an article published in Obesity in 2008. Thermogenic fat-burning supplements are one type of over-the-counter diet supplements available, but the evidence for their use isn't very strong. And, some potential side effects are associated with taking these supplements. Speak with your doctor before consuming any of these supplements to make sure they are safe for you.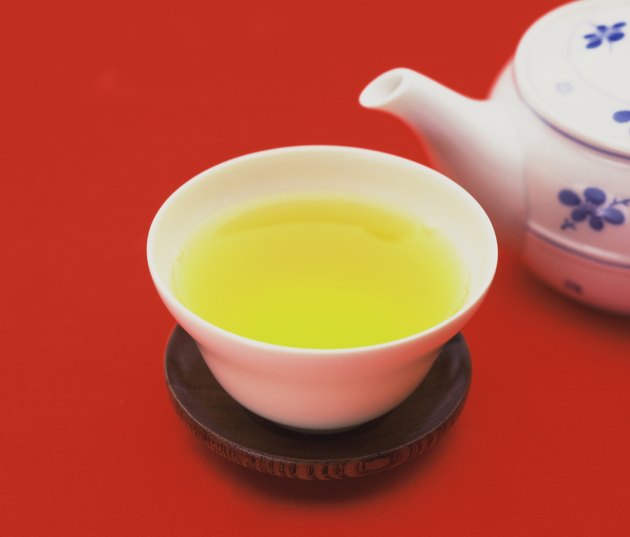 Basics of Thermogenic Fat Burners
Thermogenic supplements are those that may help slightly increase the metabolism for a few hours after you take them, thus resulting in the body burning more calories even when at rest. Fat-burning supplements aren't necessarily all thermogenic, as some supplements with this label affect fat metabolism by limiting the amount of fat that gets absorbed rather than causing it to be burned more quickly.
Thermogenic supplements are one of the most common types of weight-loss supplements. The banned dietary supplement ephedra was a thermogenic supplement; others include ma huang and bitter orange extract. Supplements that are sometimes used as fat burners include chromium, carnitine, caffeine, conjugated linoleic acid, green tea, kelp, forskolin, fucoxanthin and capsaicin.
Most Effective Thermogenic Fat Burners
Caffeine and green tea are the thermogenic fat-burning supplements with the most supporting evidence, according to a review article published in Obesity Reviews in 2011. Caffeine appears to have dual benefits, both increasing metabolism and making it so you eat less to start with, although the benefits may be only temporary. You may become insensitive to caffeine over time, according to a review article published in the American Journal of Physiology -- Regulatory, Integrative and Comparative Physiology in 2007.
The same article noted that the benefits of green tea are most likely due to the combination of beneficial substances called catechins and caffeine and that the catechins appear to have similar effects to caffeine by reducing caloric intake and speeding up metabolism. Catechins and caffeine may have synergistic effects when combined, providing more benefits for weight loss than either of these two substances when consumed separately, according to a review article published in The Journal of Nutritional Biochemistry in 2011.
Potential Thermogenic Benefits
Not enough evidence exists to recommend most dietary supplements for weight loss, according to a review article published in The American Journal of Clinical Nutrition in 2004. Studies that report benefits for these types of supplements show only a small amount of increased weight loss. For example, the AJCN review article noted that chromium picolinate only increased weight loss by about 2 or 3 pounds over the course of 6 to 14 weeks. So using these supplements alone isn't likely to increase your weight loss much, if at all. You're better off saving your money, eating a bit less and exercising a little more, especially when you take the potential side effects into account.
Green Tea Benefits
Even with the more effective thermogenic fat burner, green tea, the effects are relatively minimal. Drinking four cups of caffeinated green tea per day for eight weeks led to an increase in weight loss of about 5.5 pounds, and taking green tea supplements for the same amount of time caused an increase in weight loss of just 4 pounds, according to a study published in the Journal of the American College of Nutrition in 2010. You'll get more benefits if you exercise in addition to drinking green tea. A study published in The Journal of Nutrition in 2009 found that green tea increases the amount of abdominal fat lost from exercising. Don't add milk to your green tea or drink it when you're eating any dairy products; the proteins in milk may limit the thermogenic benefits of green tea, notes a study published in Nutrients in 2011.
Evidence for Other Thermogenic Fat Burners
Capsaicin may be helpful for increasing metabolism and fat burning, but in longer-term studies, people tended to regain weight lost with the help of capsaicin supplements just as quickly as those taking a placebo. Participants in the study stopped consuming the full dose because of its strong flavor, notes the 2007 American Journal of Physiology -- Regulatory, Integrative and Comparative Physiology review article.
The Office of Dietary Supplements notes that although forskolin is thought to potentially improve fat breakdown and decrease appetite, most research findings show no effect on body weight, and fucoxanthin, which is supposed to increase fat metabolism and energy expenditure, hasn't been researched enough to be able to draw any conclusions on its effectiveness. The few studies using people instead of animals involved fucoxanthin in combination with another ingredient, such as pomegranate seed oil or licorice root extract, making it hard to determine how much of any potential beneficial effects were because of the fucoxanthin.
A review of weight-loss supplements published in the Nutrition Action Health Letter in 2012 notes that fewer than half of the well-designed studies between 2007 and 2012 on conjugated linoleic acid and weight loss showed any beneficial effects on weight loss, and it isn't clear why CLA supplements have inconsistent effects. The article also noted that while a small trial showed potential beneficial effects for chromium picolinate on appetite, longer-term studies didn't show significant beneficial effects for chromium on weight loss.
Potential Safety Considerations
Some research reports that fat-burning supplements, including green tea extract, can cause liver failure, according to an article published in the Canadian Journal of Gastroenterology. In the case of green tea extract, taking the supplement with food may help limit the risk of liver damage, which appears to be more likely when the supplement is taken on an empty stomach. Even better, just drink green tea in place of other beverages, as the only risk associated with green tea when used as a beverage is the potential to get too much caffeine in the day. This can lead to anxiety and nervousness in some people in amounts higher than 400 milligrams per day.
Other types of thermogenic fat-burning supplements tend to be associated with more side effects than green tea. Bitter orange can cause increased blood pressure, anxiety and chest pain. Chromium can cause nausea, vertigo, headache and hives, and CLA can cause abdominal pain, diarrhea and constipation. Ma huang can cause high blood pressure, seizures, anxiety, stroke or heart attack.
A More Effective Way to Lose Weight
To lose weight, you need to create a caloric deficit of about 3,500 calories per pound of weight loss. This means eating less or exercising more to create a deficit of 500 to 1,000 calories per day that should result in a weight loss of 1 to 2 pounds per week. The combination of making dietary changes and exercising is more beneficial for weight loss and improving body composition than doing either alone, according to a study published in Obesity in 2012.
For weight loss purposes, aim for 300 minutes of moderate-intensity cardio exercise or 150 minutes of vigorous cardio exercise each week, along with at least two strength-training workouts. The cardio helps you burn more calories to build up the necessary calorie deficit, while the strength training helps you maintain muscle and build more while you lose weight. Adding muscle is a more effective way to increase your metabolism than taking thermogenic supplements, as muscle takes more calories to maintain than fat. The more exercise you get and the more vigorously you exercise, the more benefits you'll experience in regards to both weight loss and changes in body composition, according to a study published in Archives of Internal Medicine in 2004.
Starting your meals off with bulky foods that are low in calories, such as broth-based soups, salads and non-starchy vegetables, can help you fill up on relatively few calories and make it easier to eat less of the higher-calorie foods on your plate. Be sure to eat protein at each meal and snack, as protein is another nutrient that helps you feel full and makes it easier to cut calories.