Popcorn and movies go together like peanut butter and jelly. But if you're counting calories and carbs -- or you're concerned about fat and sodium -- you may want to reconsider your movie snacking choice. If, however, you plan ahead and know the nutrition information for your favorite theater's popcorn, you may be able to enjoy a small bag while watching the big screen.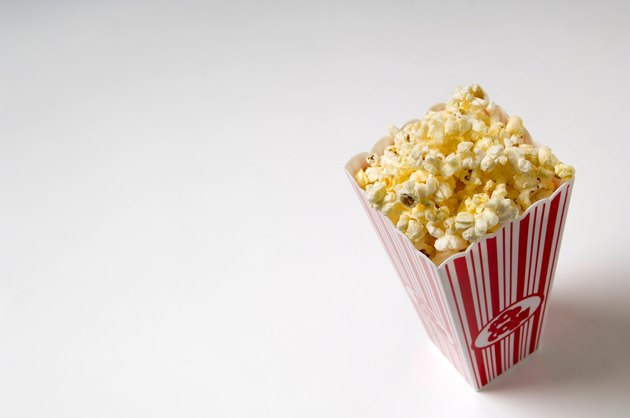 Calories and Carbs in Movie Theater Popcorn
The calories and carbs in your movie theater popcorn vary depending on the chain you frequent and the size you order. A small unbuttered popcorn, which may have 6 to 11 cups of popcorn, has 370 to 670 calories and 36 to 66 grams of carbs. A medium, which may have 9 to 14 cups of popcorn, has 590 to 760 calories and 54 to 84 grams of carbs. A 17- to 20-cup large movie theater popcorn has 910 to 1,200 calories and 102 to 120 grams of carbs.
Adding buttery topping doesn't up the carbs, but it can bump up calories by 120 per tablespoon. For example, a large 1,270-calorie popcorn turns into a 1,600-calorie popcorn with the added 3 tablespoons of buttery topping.
To give you some perspective on the difference between movie theater popcorn and the kind you make at home, 1 cup of air-popped popcorn has 30 calories and 6 grams of carbs, and 1 cup of regular microwaved popcorn has 65 calories and 5 grams of carbs. Eleven cups of air-popped popcorn is still lower in calories, with 330 calories, than one small movie theater popcorn.
Popcorn Fat Adds Lots of Calories
Fat is why movie theater popcorn is so much higher in calories than the air-popped kind. And it's usually not healthy fat, but artery-clogging saturated fat. The amount of fat ranges from 37 to 81 grams of total fat without buttery topping and 54 to 113 grams of total fat with buttery topping. Saturated fat ranges from 2 to 60 grams, with buttery topping adding another 2 grams per tablespoon. That means about 50 to 60 percent of the calories in the popcorn you eat at the theater comes from fat.
Eating too many foods high in saturated fat may increase your bad cholesterol level, raising your risk of heart disease. Based on guidelines from the American Heart Association, you shouldn't get more than 5 to 6 percent of your calories from saturated fat, which on a 2,000 calorie diet translates into 11 to 13 grams.
Watch the Salt
When it comes to good nutrition, movie theater popcorn falls short not only because of fat, but also salt. Even before you add extra salt, sodium content ranges from 210 milligrams in a small to over 2,000 milligrams in a large. Because it might increase your blood pressure, excess sodium in the diet is also bad for your heart. The 2015 to 2020 dietary guidelines for Americans recommends you limit your sodium intake to 2,300 milligrams a day for good health. While a small movie theater popcorn may not put you over the edge, devouring a large size or medium serving -- which may have as much as 1,200 milligrams in some theaters -- makes for one salty snack.
Healthier Treats at the Movie Theater
If you must have popcorn while at the movies, go for small and skip the added butter and salt. To save more calories and carbs, get the kid's size, which normally has about 200 calories, 22 grams of carbs, 11 grams of fat, 1 gram of saturated fat and 190 milligrams of sodium. If you're counting calories or carbs, drink water or diet drinks with your popcorn.
Some theaters also offer healthier options to snack on, such as frozen fruit bars and roasted nuts, which, depending on the diet you're following, might make better choices.