Aging tends to be associated with decreased muscle mass and fragile bones -- two manifestations of weight loss that aren't good for you. But if you're overweight or obese, even a small weight loss can provide significant benefits. Regular exercise can help you maintain your muscle mass and bone density while at the same time burning enough calories to help you lose weight.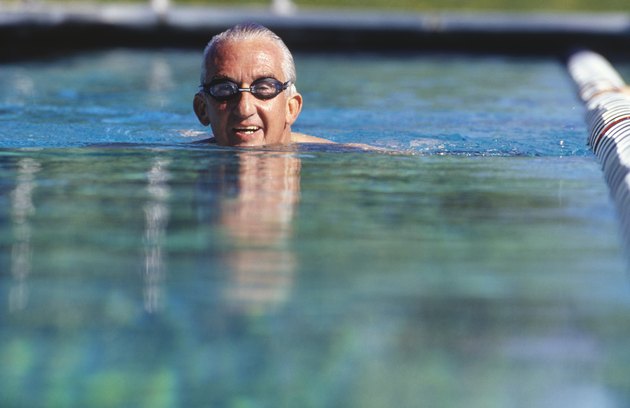 The Importance of Diet
There are two principle components to a weight loss program at any age: Increasing the number of calories you burn, and -- within reason -- adjusting your caloric intake. Diet requires some special attention in older adults, because at this age proper nutrition is more important than ever. Instead of focusing on cutting calories, focus on eating nutrient-rich foods such as fresh fruits, vegetables, lean meats and whole grains. If you're not sure how to eat a healthy diet, a nutritionist can help you create a meal plan that'll keep you strong and healthy.
The Exercise Plan
Beginning exercisers of any age should start slow and work their way up, gradually increasing either exercise intensity or duration. Even a 10-minute walk counts toward your weight loss if that's what your body is capable of doing right now. But ultimately your goal should be at least 150 minutes of moderate-intensity cardio every week. Then add a little more each week until you see the weight starting to come off. While you're at it, work up to two strength-training sessions a week, plus some stretching after every workout to help keep your body strong and limber.
Cardio Exercises -- Including Walking
Walking is the most accessible workout for older exercisers, especially if you're on a fixed income. You don't need any special equipment, you don't have to have to worry about paying gym dues, and walking can challenge your sense of balance while not stressing it overly much. Other low-impact exercises that are gentle on your bones include swimming, aqua aerobics, low-impact dance and cycling. If your bones are fine, you might enjoy higher-impact activities like running and step aerobics classes. As long as your doctor clears you and your body tolerates it, you can do just about anything.
Strength Training
Not only can strength training help you toward your weight-loss goals, it can also help you maintain -- and maybe even increase -- your muscle mass and bone density. The extra strength and endurance helps make everyday tasks easier, too.
As long as you start with light weights, slowly increase them and only lift however much weight you can safely control with no pain, you can do just about any type of strength training. That includes group fitness classes, using weight machines, or lifting free weights. An example of a basic exercise program is eight to 12 repetitions of chest presses, rows, and lunges or squats, with either free weights or a machine. Repeat twice weekly with at least one day of rest between workouts, and add a second set of each exercise when you feel ready.