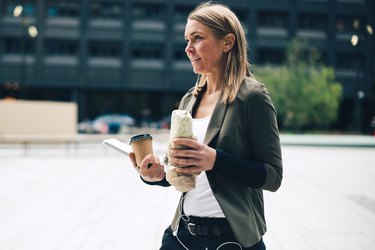 Many people looking to try a low-carb diet may be intrigued by Subway's line of wraps over the brand's traditional subs. Subway wraps pack all the same sandwich fixings inside a tortilla instead of on a roll.
But if you're trying to lose weight, going the way of the wrap may be giving you more than you bargained for in terms of fat and calories.
Subway Wraps' Ingredients and Nutrition
Subway wraps are made of traditional soft tortilla ingredients such as enriched unbleached flour, wheat gluten, baking powder, soy lecithin, sugar, yeast, garlic granules, onion powder, dextrose and citric acid. They come in two flavors: spinach and tomato basil.
According to Subway, the spinach wrap and the tomato basil wrap on their own contain 290 calories, 8 grams of fat (3.5 grams of saturated fat), between 730 and 780 milligrams of sodium, 48 to 49 grams of carbs and 8 grams of protein.
What makes the two tortillas differ slightly is their flavoring, which is reflected in their ingredients lists. For instance, the tomato basil wrap also contains palm oil, dehydrated bell pepper, paprika and tomato powder, while the spinach wrap contains spinach powder and parsley.
Are Subway Wraps Healthy?
"While the ingredients in the wrap are technically safe, they're not nutrient-dense or health-promoting. The wraps use enriched flour as the first ingredient, meaning that the flour is enriched with synthetic vitamins," says Sam Presicci, RD, CPT, lead registered dietitian at Snap Kitchen.
Synthetic vitamins, like folic acid, aren't in a form that the body can easily use, she says. In addition, the wraps sneak in added sugars. "The wraps seem healthy since they have names like 'tomato basil' or 'spinach,' but in reality, they only contain a little bit of vegetable powder for color," she says. Just like processed wheat flour, vegetable powder is not a whole food.
What's more, it seems odd that the spinach wrap doesn't contain any oil but still manages to pack in 8 grams of fat, says explains E.A. Stewart, RD, owner of Spicy RD Nutrition. "I question if [the spinach wrap] also contains palm oil [like the tomato basil wrap], but Subway accidentally left it off the ingredient list," she adds.
Subway Wraps Vs. Sandwiches
Subway's Turkey Breast Signature Wrap contains a total of 420 calories, 10 grams of fat (4 grams of saturated fat), 1,550 milligrams of sodium, 54 grams of carbs (3 grams of fiber, 4 grams of sugar) and 28 grams of protein.
Subway's six-inch Turkey Breast Signature sandwich packs in 250 calories, 3 grams of fat (0.5 grams of saturated fat), 650 milligrams of sodium, 40 grams of carbs (5 grams of fiber, 6 grams of sugar), and 18 grams of protein.
All in all, the wrap contains more calories, fat, sodium and carbs, as well as protein. Since Subway wraps are filled with a double portion of meat, you can request to add double meat to your sandwich to get an extra dose of protein without the added fat and carbs coming from the wrap.
Although the wrap may seem like the logical choice if you're trying to cut back on carbs, you'd actually get fewer carbs — as well as less fat and calories — by sticking with the traditional six-inch sub on whole-grain bread.
Should You Order a Subway Wrap?
"Since wraps are denser and often have a large surface area, they actually pack more carbs and calories when compared to most bread," Presicci says. If you're looking to cut back on calories and saturated fat and are watching your carbohydrate intake, the sandwich and nine-grain wheat bread is a better choice than the spinach or tomato basil wrap. "In addition, you get twice as much fiber and about two-thirds less sodium by choosing the nine-grain wheat bread," says Stewart.
"Just make sure to choose one of their basic bread options, like the gluten-free bread, nine-grain wheat, Italian bread, sourdough or honey oat bread to avoid some of the extra additives in their cheese breads," says Presicci. Plus, these heartier breads contain a solid amount of fiber, which will help keep you satiated for longer.