Numerous conditions or factors can cause decreased serum sodium and chloride levels. According to the University of Maryland Medical Center, electrolytes, including sodium and chloride, are minerals in your blood and other body fluids that possess an electric charge. Certain factors can decrease the amount of sodium and chloride in your serum, or the portion of your blood that is not red blood cells. A lack of serum sodium is called hyponatremia, whereas a lack of serum chloride is called hypochloremia.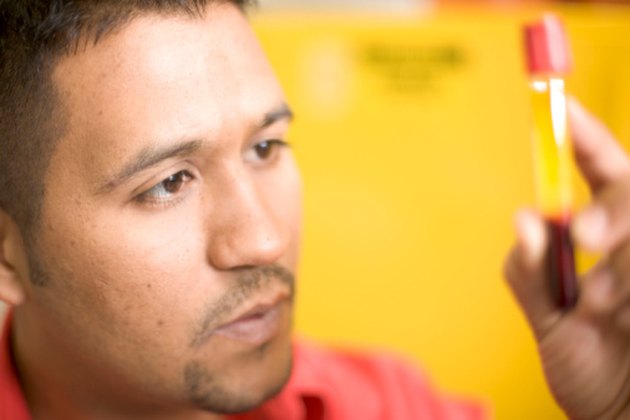 Addison's Disease
Addison's disease can cause low serum sodium and chloride levels. According to the National Institute of Diabetes and Digestive and Kidney Diseases, Addison's disease, also known as adrenal insufficiency, is an endocrine disorder that manifests when your adrenal glands -- triangular-shaped glands that sit on top of your kidneys -- do not generate enough of certain hormones, such as cortisol and aldosterone. The NIDDK reports that Addison's disease affects approximately 1 to 4 of every 100,000 people and that the condition occurs in all age groups and genders. Common signs and symptoms associated with Addison's disease include decreased serum sodium and chloride levels, muscle weakness and fatigue, decreased appetite, weight loss, low blood pressure, salt cravings, nausea, diarrhea, vomiting, irritability and depression.
Congestive Heart Failure
Congestive heart failure is a chronic, or long-term, condition that can cause a decrease in your serum sodium and chloride levels. MedlinePlus states that congestive heart failure is a condition in which your heart can no longer pump a sufficient amount of blood to your body's tissues and organs. As your heart's ability to pump blood is lost, blood can back up into other parts of your body, causing fluid accumulation in your extremities, lungs, liver and gastrointestinal tract. Common signs and symptoms associated with congestive heart failure include decreased serum sodium and chloride, shortness of breath, weakness and fatigue, irregular heartbeat, decreased exercise capacity, persistent cough or wheezing, sudden weight gain and swelling of your abdomen.
Prolonged Vomiting
Prolonged vomiting can cause decreased electrolyte levels, including decreased serum sodium and chloride. According to the Cleveland Clinic, vomiting is a symptom of many different conditions including infection, food poisoning, motion sickness, overeating, blocked intestine, brain injury, appendicitis and migraines. In some cases, prolonged vomiting may signal a more serious condition such as heart attack, brain tumors or liver disorders. The Merck Manuals Online Medical Library states that vomiting is one of the most common causes of an electrolyte imbalance. Along with prolonged vomiting, other co-existing factors may cause decreases in your serum sodium and chloride levels including fever, diarrhea and certain medical conditions. Consuming electrolyte-rich foods is often sufficient to restore your electrolyte balance.