Humans have been preserving foods for centuries. Your ancestors used to dry, freeze, can or pickle foods to extend their shelf life. With an increase in packaged foods also came an increase in different preservation methods. Chemical preservation is used to delay spoilage, enhance color and flavor, and maintain consistency and texture of foods.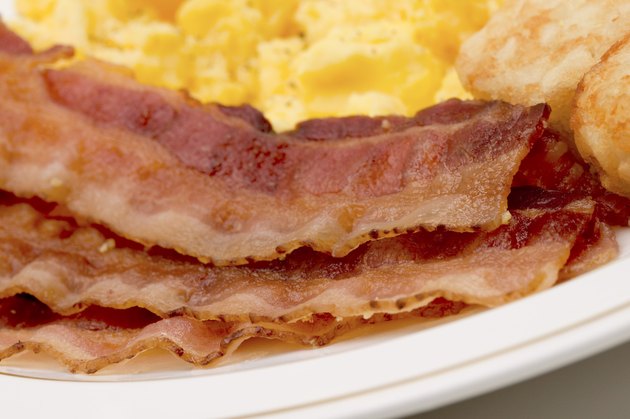 BHT and BHA
Butylated hydroxyanisole, or BHA, and butylated hydroxytoluene, or BHT, are phenolic chemical compounds that are often added to packaged foods to preserve their shelf life. BHA is used to keep foods from going rancid and is often added to high-fat foods, like butter, meat and baked goods, as well as cereals, snack foods, dehydrated potatoes, beer and chewing gum. BHT keeps foods from changing flavor and color and helps prevent them from developing an odor. Cereals, shortenings and foods high in fat and oils often contain BHT. Although the results have been inconclusive so far, large doses of BHA and BHT have been shown to promote the growth of tumors in lab animals, according to CNN.com.
Sodium Nitrate
Sodium nitrate is a salt used as a preservative in many cured or smoked meats, such as bacon, jerky, deli meats and smoked salmon. Sodium nitrate helps reduce color changes and prevents botulism, a rare foodborne illness caused by the bacterium Clostridium botulinum. Although sodium nitrate is generally recognized as safe, the U.S. Environmental Protection Agency notes that exposure to high levels of sodium nitrate has been linked to increased incidences of cancer in adults and may be related to brain tumors, leukemia and nose and throat tumors in some children.
Sulfites
Sulfites have been used during wine making for centuries, and they are also used as an antimicrobial agent and to prevent discoloration and browning in food products. Possible sources of sulfites include beer, cocktail mixes, processed baked goods, pickles, olives, salad dressing, powdered sugar, lobster, shrimp scallops, canned calms, fruit fillings, fruit juices and potatoes. Approximately 1 in 100 individuals is sensitive to the preservative, although adverse reactions in nonasthmatics are extremely rare, according to the University of Florida.
Sodium Benzoate
Sodium benzoate inhibits the growth of bacteria, mold and yeast in acidic conditions. The preservative is commonly used in carbonated beverages, fruit juices, pickles, salsa and dip. According to Don Schaffner, a professor of food science at Rutgers University in New Jersey, sodium benzoate poses no health dangers when consumed in minimal amounts, and the concentrations used in food are low enough that they pose no risk.