Less than 70 percent of the adult human population is capable of digesting the milk sugar lactose. Not content to stop consuming dairy, humankind has instead invented lactose-free milk. The changes to milk necessary to render it safe for the lactose-intolerant changes its nutrition profile at a fundamental level.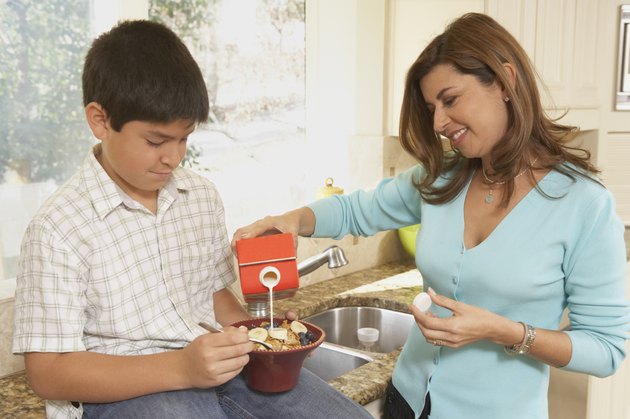 Cholesterol Basics
People once believed there was only one kind of cholesterol, and that it was universally bad for your heart. According to Dr. Mehmet Oz in "You: The Owner's Manual," nutrition science now understands that there are three kinds of cholesterol. One is bad for your heart. Another actually improves your circulatory health. A third type forms in response to blood glucose, and is related to pancreatic health and obesity.
Lactose Basics
Lactose is a sugar that occurs naturally in milk and other dairy products. Somebody capable of digesting lactose has the enzyme lactase in their digestive tract, which breaks lactose down into glucose and galactose. People who are lactose intolerant lack lactase. When they eat something containing lactose, they suffer digestive symptoms such as cramps, gas and diarrhea. Lactose-free products are made and marketed to serve the lactose intolerant population, which actually outnumbers those who produce lactase.
Cholesterol Content
According to Walter Willett in "Eat, Drink and Be Healthy," it's the fat content in foods that affects your levels bad LDL and good HDL cholesterols. The content of sugars and starches in food stimulates the production of triglycerides.
LDL & HDL
The USDA provides information for a 1-cup serving of lowfat lactose free milk. One such serving contains 2.5 g of fat, divided between 1.5 g of saturated fat and 1 g of unsaturated fat. The saturated fat content will increase your levels of unhealthy LDL cholesterol. The unsaturated fats will increase your HDL, though not to the same extent because of the lower content. Overall, lactose free milk will have a deleterious effect on your total cholesterol level because it stimulates production of bad cholesterols more than it does the good cholesterols.
Triglycerides
According to the USDA, the carbohydrates in lactose free milk are almost entirely sugars, giving it a very high glycemic index. The higher a food's glycemic index, the more it stimulates the production of triglyceride cholesterols. Although triglycerides are not themselves harmful, like LDL cholesterol, higher numbers indicate a higher risk of type 2 diabetes and obesity.