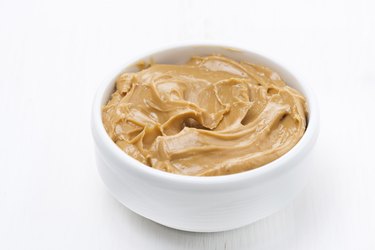 Peanut butter can be an excellent source of protein and healthy fats. Eating peanut butter is associated with lower total cholesterol, lower LDL, or "bad," cholesterol, as well as lower triglycerides, all of which are associated with lower cardiovascular disease risk," notes Richard Mattes, Ph.D., R.D. in a 2007 CNNheath.com report. However, commercially prepared peanut butter can contain high levels of added sugars. Making your own peanut butter can help you control the nutrient content.
Calories
Homemade peanut butter contains about 116 calories per 2-tablespoon serving. However, the calorie content of your recipe may differ based on any additional ingredients you use in addition to just peanuts and peanut oil.
Fat Content
Peanuts are naturally high in fat -- and homemade peanut butter is high in fat as well. Homemade peanut butter contains about 10.25 grams of fat per serving. However, peanut butter is a good source of monounsaturated fats, which may help reduce your risk of heart disease, according to the American Heart Association.
Carbohydrate Content
Peanut butter is low in carbohydrates. Each 2-tablespoon serving of homemade peanut butter contains 4 grams of carbohydrates including 1.5 grams of fiber.
Protein Content
Protein is a vital nutrient that helps build muscle and other body tissues. It can also help quell hunger. A 2-tablespoon serving of homemade peanut butter contains about 4.3 grams of protein.