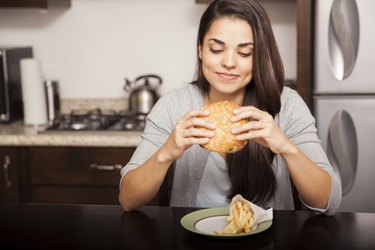 With its toy tucked inside, McDonald's Happy Meals are a hit with kids, and are available with hamburgers, cheeseburgers or chicken McNuggets. The total calorie count in the hamburger Happy Meal depends on the side and beverage you choose to have with the burger.
Hamburger
The hamburger in the Happy Meal contains 250 calories, with 80 of those calories coming from fat. If you eat a 2,000 calorie diet, the calories amount to 12.5 percent of your daily intake.
Sides
Each Happy Meal comes with a choice of a small order of fries or apple dippers with low-fat caramel sauce. A small fry contains 230 calories, including 100 from fat. The apple slices with caramel sauce have 100 calories, and 5 are from fat, McDonald's reports.
Beverages
Kids can choose between milk, apple juice or a child-sized soda as a drink for their Happy Meal. Low-fat milk has 100 calories, with 20 calories from fat, while the low-fat chocolate milk has 170 calories with 25 from fat. Apple juice contains 100 calories, but none are from fat. Soda choices include Coke, Diet Coke, Sprite, orange Hi-C, Powerade Mountain Blast and iced tea. Coke and Sprite have 110 calories each, the Hi-C has 120 calories and the Powerade has 70 calories. Diet Coke and iced tea contain no calories, and are the healthiest options.