Concerns about prostate health begin to mount as the average male gets older, and acronyms such as PSA become part of normal conversation. Prostate-Specific Antigen, or PSA, levels are measured as part of the diagnostic process for detecting prostate cancer. Typically, the probability of prostate cancer increases with higher PSA levels, as per the John Hopkins Prostate Bulletin. As with most tests, false positive results sometimes occur, and there have been indications that exercise is one component that could elevate your PSA results, leading to a positive test result in the absence of cancer.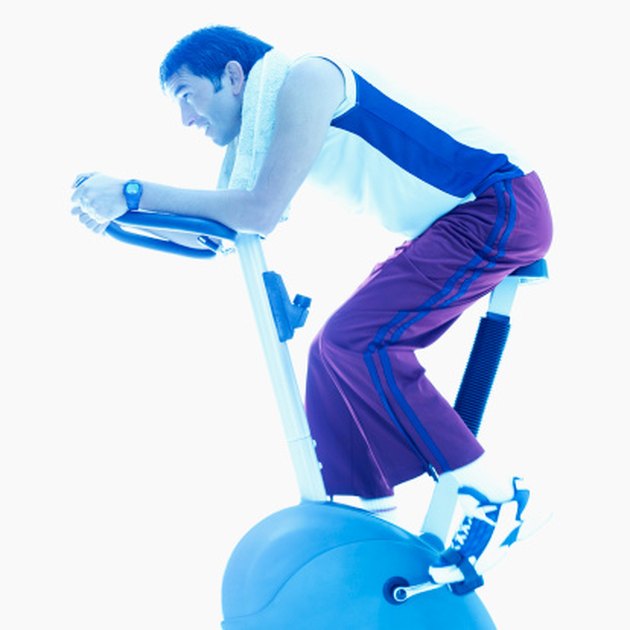 What is Prostate-Specific Antigen or PSA?
Cells in the prostate gland produce a protein called prostate-specific antigen. This enzyme is found in high concentrations in seminal fluid, but not much of it should be found in your bloodstream. When blood PSA levels are high, it is an indication that there may be some abnormality in the prostate.
The PSA Test
The PSA test was introduced in 1986 and allowed prostate cancer to be detected up to six years earlier than with previous diagnostic measures alone. The normal blood PSA level is 4 ng/ml. Some people call levels between 4 and 10 ng/ml the "grey zone," and levels within this range may be the result of cancer, prostatitis or benign prostatatic hyperplasia. Men with PSA levels above 10 ng/ml have an increased risk of prostate cancer. According to the National Cancer Institute, one of the limitations of the test is that only 25 to 35 percent of men with elevated PSA levels turn out to have prostate cancer when further testing is done. Knowing whether factors such as exercise will increase your PSA levels can mean the difference between expensive further testing with the attendant anxiety, and peace of mind.
Factors Affecting PSA Levels
The Macmillan Cancer Support website states that your PSA levels can become elevated for the following reasons: infections; doing the test less than six weeks after a prostate biopsy; using a urinary catheter; not waiting six weeks after prostate or bladder surgery to do the testing; ejaculation, which can increase PSA levels for 48 to 72 hours; extended exercise, which can elevate PSA levels for 48 hours.
The Evidence
A 1996 study by Gerhard Oremek et. al. reported by Clinical Chemistry Laboratories, looked at the effect of exercise on the PSA levels of 301 healthy subjects. Fifteen minutes of exercise was found to increase PSA levels by up to threefold. This increase suggests that exercise does have an elevating effect on PSA levels.
Who Should Be Tested
All men over 50 years old should be tested, and those with increased risk of prostate cancer such as African Americans and men with a family history of prostate cancer should be tested from 40 to 45 years old, according to recommendations from the American Urological Society, the American Cancer Society and the American College of Physicians. Before going in for testing, however, keep in mind that one of the factors that may cause elevated PSA levels is exercise.