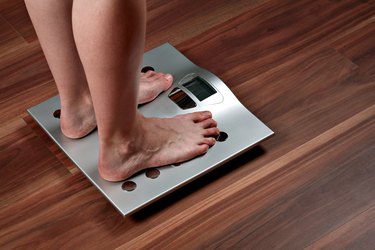 Whether a Fiber One bar is an effective option for your weight loss plan depends on the type of diet you're following. The bars are not sold specifically as diet food, but by checking the nutrition information on the box, you may find they can help you reach your individual weight loss goals.
Considerations
Fiber One Chewy Bars are manufactured by General Mills and marketed as a way to add fiber to your diet. There are six varieties of the original bars, and General Mills also offers two flavors of 90-calorie bars. Nutritional information varies slightly from flavor to flavor, so it's important to check the nutrition label on each box or at the General Mills website to know exactly what you're getting.
Calories
The National Heart, Lung and Blood Institute states that if you're trying to lose about a pound a week, you need to trim 500 calories a day. Take that into account as you weigh whether a Fiber One bar should be part of your diet. For example, one Oats and Apple Streusel bar contains 130 calories, an Oats & Chocolate bar contains 140 calories and an Oats & Peanut Butter bar has 150 calories. The newer reduced--calorie bars contain 90 calories. If you need an afternoon pick--me--up and usually opt for a candy bar, then a Fiber One bar would be a better option for you. For example, the 150 calories in the Oats & Peanut butter bar is far better than the 250 calories in a Snickers bar, as reported by Snickers.com.
Fiber
FamilyDoctor.org reports that eating fiber--rich foods can yield many health benefits. Dietary fiber may help in the treatment of some digestive problems, lower cholesterol and reduce your risk of coronary heart disease, diabetes and some cancers. Foods that are high in fiber also help you to feel fuller longer after you've eaten, and that may help you eat less and lose more weight. Fiber One bars have 9 grams of fiber, which is 35 percent of the Daily Value for fiber.
Carbohydrates
If you're following a low-carbohydrate diet to lose weight, Fiber One bars may not be a good choice. An Oats & Chocolate bar has a total carbohydrate count of 29 grams, which is 10 percent of the Daily Value for someone following a 2,000--calorie daily diet. Some low--carb diets restrict dieters to far fewer carbs a day. The total carbs are broken into 9 grams from dietary fiber and 10 grams from sugars.
Fat
If you're trying to lose weight by counting fat grams, a Fiber One bar is acceptable to add to your menu. An Oats & Chocolate bar has just 4 grams of fat, which is 6 percent of the Daily Value. The bars contain 1.5 grams of saturated fat and no trans fat. The Centers for Disease Control notes that healthy adults should get no more than 20 to 35 percent of their total calories from fat.