A complete cholesterol test is a collection of blood tests that determine the levels of cholesterol and triglycerides (a type of fat) in your blood. HDL cholesterol is defined as "good" while LDL is considered "bad." Separate blood tests are required to gauge each type of cholesterol. People with high cholesterol have a greater chance of developing heart disease. The accuracy of your cholesterol test is very important. If you eat food too close to the time of your test, it can cause incorrect results.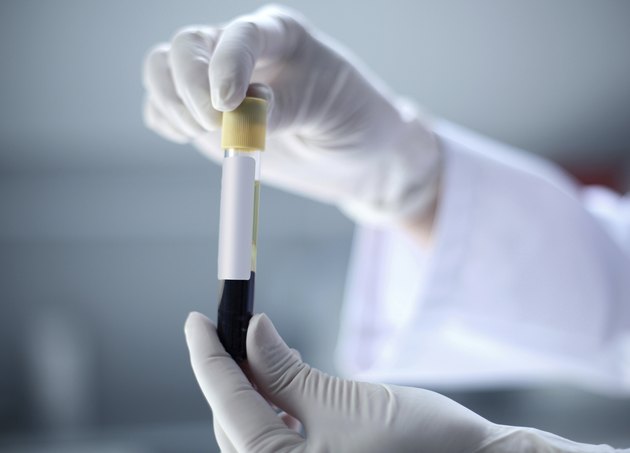 Fasting
It is generally recommended that you fast (no food intake) for approximately nine to 12 hours prior to undergoing a cholesterol test. The National Institute of Health (NIH) says with the exception of water, no liquids should be consumed during this time. A person may choose to schedule her test first thing in the morning so the hours spent sleeping can count as part of the required fasting period. You will be able to eat once the test is completed.
Effects
The reason a cholesterol test should be performed on an empty stomach is because it can take several hours for your body to digest food. During this process, portions of the food separate and move through your blood. Since the cholesterol test examines the amount of fat in your blood, recently eaten food and the fat it creates in your blood can interfere with the accuracy of the reading.
Results
Undergoing blood work a number of hours after eating will allow your doctor to get an undistorted look at your blood. If your fat (lipid) levels are high after abstaining from food for the recommended time, that could mean you have high cholesterol, making you prone to heart disease and stroke, among other health issues.
Precautions
In addition to fasting, alcohol should not be consumed for 72 hours prior to the time of your cholesterol test. Do not alter your dietary routine for a minimum of three weeks before the test. Consult with your doctor about any special needs you may have. For example, certain medications (oral contraceptives) can cause cholesterol levels to rise.