Ginger is an herb that has been used for cooking and flavoring for thousands of years; however, ginger has also been used in complementary medicine as a gastrointestinal aid, according to the University of Maryland Medical Center website. One beverage that is made with ginger, ginger ale, is a ginger-flavored, carbonated soda and is one way for patients to get the benefits of ginger in a drink form. Ginger and ginger ale have been helpful in managing nausea in pregnant women and in patients undergoing chemotherapy as well, according to the American Cancer Society. While ginger ale has healthful properties, it can be associated with some side effects.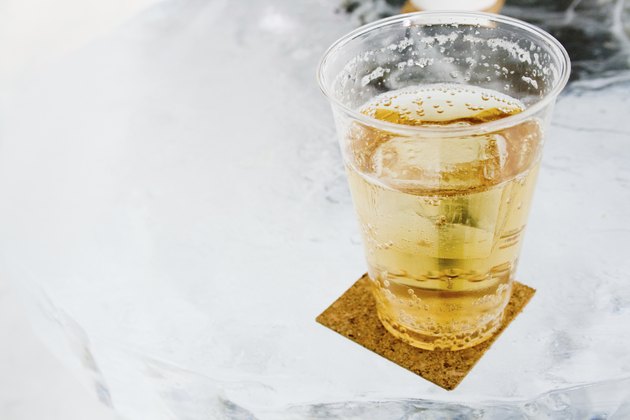 Gastrointestinal Problems
Ginger ale can be used to calm stomach ailments, including nausea, according to University of Maryland Medical Center website. Drinking too much ginger ale can also cause gastrointestinal ailments, such as heartburn, excess belching and possibly diarrhea. Pregnant patients should let their physicians know about any additional heartburn or diarrhea associated with ginger ale consumption. Patients on chemotherapy should also let their oncologist or oncology nurse know about any use of ginger ale to avoid any interactions with any medications used in their cancer treatment.
Blood Clotting Problems
Ginger can slow down blood clotting and can behave similar to aspirin, according to Dr. Jonny Bowden in the 2007 book "The 150 Healthiest Foods on Earth." Drinking large amounts of ginger ale that contains real ginger can cause some blood thinning. This blood thinning can be dangerous in patients who are already taking medications that prevent blood clotting, including aspirin, warfarin or heparin. These patients should discuss their consumption of ginger ale with their physician to avoid any problems.
Aggravation of Gallbaldder Disease
Ginger has been shown to increase the secretion of bile, according to Bowden. For this reason, patients with gall stones or gallbladder disease are often directed to avoid ginger in order to lessen the risk of having a gallbladder attack. If these patients do not completely eliminate ginger, any use of the product should be under the advice of a doctor. Consuming ginger ale with real ginger may also cause these types of problems for patients with gallbladder disease.