The carb-protein-fat ratio you consume on a daily basis can influence your weight. While most people try to maintain a balanced diet, weight loss is supported by altering the consumption of these macronutrients. High-carbohydrate, high-fat and high-protein diets can all help with weight loss.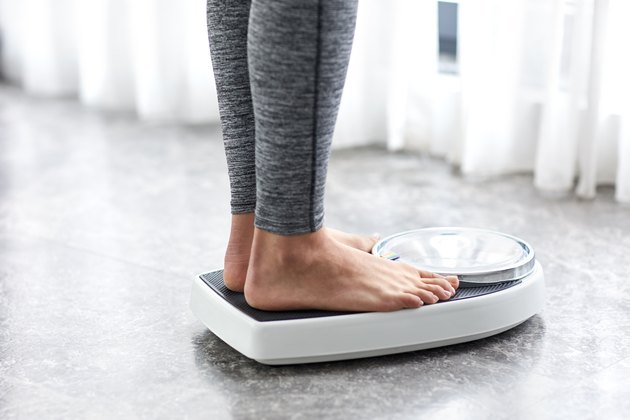 FDA-Recommended Macronutrient Consumption
Carbohydrates consist of sugars, sugar alcohols, starches, soluble fiber and insoluble fiber. The DV for dietary fiber, which is made up of both soluble and insoluble fiber, is 25 grams. Fat consists of multiple types of fats, like monounsaturated fat, polyunsaturated fat, saturated fat and trans fat.
There's no daily value (DV) for monounsaturated fat and polyunsaturated fat, but these are the healthy fats that should make up the majority of your diet. Unhealthy fats are saturated fat and trans fat. The DV for saturated fat is less than 20 grams per day, and there is no DV for trans fat — as it's recommended that you consume little or none.
The recommended daily intake of protein, fat and carbohydrates actually adds up to a total of 1,985 calories. This is because 200 calories come from protein, 585 calories come from fat and 1,200 calories come from carbohydrates. However, you don't have to follow a standard diet to eat 2,000 calories. You can also create a carb-protein-fat ratio of macronutrients that suits your own personal dietary needs.
Calories and Carb-Protein-Fat Ratios
In order to understand how to best distribute your macronutrient intake, you need to understand how many calories to consume each day. Although most people maintain a diet of about 2,000 calories per day, healthy diets can range between 1,600 and 3,200 calories. The exact amount you need varies based on your age, sex and how much physical activity you perform. You can use the Dietary Guidelines for Americans charts to find out the amount that's best suited to you and figure out your ideal carb-protein-fat from there.
If you want to lose weight, you're probably reducing your calorie intake. In some cases, you'll want to simultaneously alter your carb-protein-fat ratio and calorie intake simultaneously. According to the Harvard Medical School, just reducing your calorie consumption by anything from 500 to 1,000 calories per day can help you lose weight. However, people still need to eat a minimum number of calories, or they may suffer from nutrient deficiencies. Men should consume a minimum of about 1,500 calories each day, and women should consume a minimum of about 1,200 calories each day.
If you're struggling to determine the exact ratio of macronutrients you need on a daily basis, many apps can help and provide recommendations. Alternatively, if you have an idea of the carb-protein-fat ratio you need but want to assess different ratios, you can input potential macros for weight loss using calculators online and see which ratio suits your dietary needs best.
Increased Fat and Weight Loss
More Carbohydrates for Weight Loss
Although carbohydrates have a bad reputation for contributing to weight gain, it's possible to consume a high-carbohydrate diet and also lose weight. These diets are essentially the opposite of the ketogenic diet, as they are rich in carbohydrates and low in fat. They tend to feature foods that are high in fiber, low in saturated fat, low in refined carbohydrates and reduced calories.
In addition to supporting weight loss, a 2016 study in the journal Age and Ageing states that consuming a healthy, high-carbohydrate diet low in calories, protein and fat may help increase your lifespan. People who consume high-carbohydrate, low-protein, low-fat diets may consume ratios like 5 percent fat, 9 percent protein and 86 percent carbohydrates. However, they may also have higher fat and protein contents, with ratios like 64 percent carbohydrate, 18 percent protein and 18 percent fat.
Increased Protein and Weight Loss
High-protein diets can also help to support weight loss. The Recommended Dietary Allowance for protein is 0.8 grams per kilogram of body weight, which averages out to about 56 grams per day for men and 46 grams per day for women. Increasing protein consumption modestly (no more than 2 grams per kilogram of body weight) can be part of a healthy diet.
According to an April 2015 study in the American Journal of Clinical Nutrition, consuming 1.2 to 1.6 grams of protein per kilogram of body weight is the ideal amount of dietary protein for weight loss. Diets with increased protein consumption can help preserve muscle mass while promoting fat loss. They also have other benefits, like reduced triglyceride levels, improved blood pressure and elevated satiety hormones.