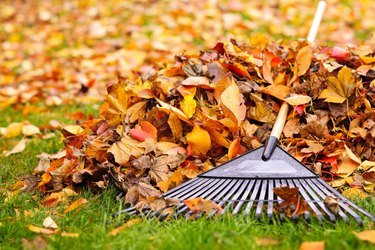 With the change of seasons comes beautiful fall foliage and — you guessed it — raking. Besides clearing out your leaf-covered lawn, yard work is a great source of physical activity. And here are the calories burned raking leaves (based on your weight) to prove it.
Benefits of Raking Leaves
Raking isn't just a good way to move your body. Per the University of Minnesota, clearing your lawn comes with a host of benefits for your yard, too, such as:
It can encourage grass growth in the spring
It prevents snow mold diseases in your plants
It prevents turf damage from animals like mice and voles
Calories Burned Raking Leaves
The amount of calories burned raking depends on factors like your weight, the intensity of the activity and how long you do yard work.
According to the American Council on Exercise (ACE), here's an estimate of how many calories people with the following weights burn during an hour of yard work, like raking:
‌100 pounds:‌ 181 calories
‌125 pounds:‌ 226 calories
‌150 pounds:‌ 272 calories
‌175 pounds:‌ 317 calories
‌200 pounds:‌ 362 calories
‌225 pounds:‌ 408 calories
‌250 pounds:‌ 453 calories
‌275 pounds:‌ 498 calories
‌300 pounds:‌ 544 calories
But remember that these numbers are just estimates — for instance, if you rigorously rake leaves, you may burn more calories than if you rake lightly or take frequent breaks.
Tip
Regular activity — including raking the leaves — is an important component of any weight-loss endeavor. According to the Mayo Clinic, exercise can help you create the recommended daily calorie deficit of 500 to 1,000 calories to help you lose weight at the safe and sustainable pace of 1 to 2 pounds per week.
Does Raking Leaves Count as Exercise?
Other moderate-intensity yard activities besides raking leaves include:
Light digging or shoveling
Weeding
Planting trees
Trimming plants
Hauling branches
Stacking wood
Mowing the lawn
Shoveling light snow
Other Moderate-Intensity Activities
Whether or not you have yard work to finish, here are some other moderate-intensity outdoor activities that can help you meet the recommended weekly exercise guidelines, per the CDC:
Walking
Bicycling
Canoeing
Kayaking
Horseback riding
How Raking Leaves Stacks Up to Other Activity
So, how do the calories burned while raking leaves compare to other common activities?
According to the ACE, here's how many calories you'll burn during an hour of the following activities, based on your weight:
Calories Burned During Common Activities (Per Hour)
| Activity | 100 pounds | 150 pounds | 200 pounds | 250 pounds | 300 pounds |
| --- | --- | --- | --- | --- | --- |
| ‌Raking leaves‌ | 181 | 272 | 362 | 453 | 544 |
| ‌Housework‌ | 136 | 204 | 272 | 340 | 408 |
| ‌Walking (moderate pace)‌ | 149 | 224 | 299 | 374 | 449 |
| ‌Running‌ | 317 | 476 | 635 | 793 | 952 |
| ‌Bicycling‌ | 181 | 272 | 362 | 453 | 544 |
| ‌Swimming‌ | 317 | 476 | 635 | 793 | 952 |
| ‌Weight training‌ | 136 | 204 | 272 | 340 | 408 |
| ‌Stretching‌ | 113 | 170 | 226 | 283 | 340 |