Developed by bodybuilder and coach Dave Draper, the tuna and water diet is designed to be a three-day diet "reset" to help to ditch poor eating habits. For three days, you'd drink roughly 2 quarts of water a day and eat enough tuna over the course of six meals to take in 1 to 1.5 grams of protein per pound of body weight. You'd almost certainly lose water weight over the course of the diet, but you might also experience some less-than-welcome side effects, including exposure to unsafe levels of mercury. If you're interested in a temporary "reset" diet, consider opting for a safe, more well-rounded three-day plan, instead.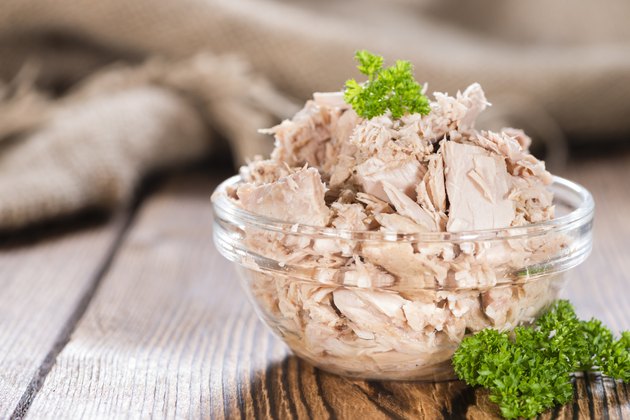 Temporary Water Weight Loss
The water and tuna diet isn't intended for long-term weight loss -- which is a good thing, since it won't help you lose fat. Any three-day diet is simply too short to lose any significant amount of weight. You will, however, likely notice a difference on the scale because you'll lose water weight due to your low carbohydrate intake. Carbs stored in your body as glycogen are naturally very "hydrated," as each gram of carbohydrates comes attached to 3 grams of water. As you burn through your stored carbohydrates -- like the glycogen found in your muscles -- you'll release the water that was attached to it, further lowering your weight.
This effect won't last forever, though. Once you start adding carbs to your diet again, you'll replenish your glycogen stores and regain all the water weight you lost.
Potential Digestive Issues
While the tuna and water diet keeps you hydrated and supplies healthy proteins and fat, it doesn't offer any fiber -- the special carb found in plant-based foods, like veggies and grains. Fiber "keeps things moving" through your digestive tract by bulking and softening your stool, and a low fiber intake can leave you constipated.
Draper tries to combat this by advising that you take a fiber supplement at night, so you're getting at least some fiber in your diet. But fiber supplements aren't meant to be your sole source of fiber -- they're supposed to complement a well-rounded diet full of fiber-rich fruits, veggies and whole grains. And the supplement recommended by Draper supplies just 6 grams of fiber per serving -- far less than the 21 to 38 grams recommended daily, depending on your age and gender.
In addition to digestive issues on the three-day diet, you might notice some abnormalities after you return to normal eating that includes whole foods. Quickly increasing your fiber intake also disrupts digestion, and it can cause bloating, gas and diarrhea.
Other Potential Concerns
Draper's plan recommends eating 1 to 1.5 grams of protein for each pound of body weight, which adds up to a lot of tuna. If you weigh 150 pounds, for example, you'd need to eat 150 to 225 grams of protein each day -- or about 4.5 to seven cans of tuna each day. While eating a balanced diet high in protein can help with weight loss, upping your protein intake to such an extreme level doesn't mean you'll get more weight-loss benefits. In fact, your body can only use a certain amount of protein each day -- slightly less than a gram per pound of body weight -- so a lot of the protein you'll eat on the tuna and water diet won't be used to build and repair healthy lean mass.
You'll also take in a potentially dangerous amount of mercury while eating multiple cans of tuna each day. Even light tuna -- your lowest-mercury option -- still contains mercury, and a single 5-ounce can is enough to exceed the safety limit for women of childbearing age, according to Consumer Reports.
The tuna and water diet has other drawbacks, too. Your body uses carbs for fuel throughout the day -- and it's the quickest source of energy for your muscles -- so a low-carb diet might make you feel fatigued. If you're exercising regularly, opting for such a restrictive diet might negatively affect your workouts.
Modifying the Tuna and Water Diet
The tuna and water diet definitely counts as a fad diet -- it's not sustainable and won't offer long-term weight-loss results. And even if you're craving a restrictive diet "reset," you can incorporate some aspects of the diet into well-rounded meal plan to get back on track and work toward your fitness goals.
For example, focus on sipping water throughout the day -- enough that you're passing light yellow urine every few hours. Use healthy proteins, like tuna, to make sandwiches, salad and wraps. However, you should eat protein from a range of sources -- including lean beef and poultry, beans, eggs, nuts and dairy -- and fill out the rest of your diet with dairy, whole grains, vegetables and fruits. If you want to try a "diet reset," simply eliminate processed and fatty foods, refined grains and sugar for a few days to reset your palette without depriving your body of essential nutrients.