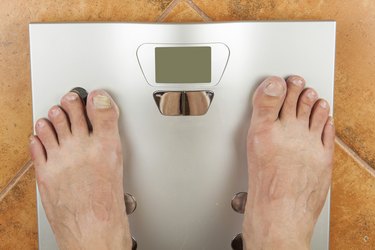 Metoprolol is a beta blocker used in the management of hypertension and chronic angina pectoris, or chest pain. The medication may be used alone or in conjunction with other medications. Because obesity and hypertension often occur concomitantly, metoprolol may be part of the treatment regimen.
Expert Insight I
The "International Journal of Obesity" published a study about the effects of a low dose of metoprolol in conjunction with the appetite suppressant medication sibutramine in its Jan. 13, 2004 online edition. Sibutramine possesses potential side effects of heart palpitations and hypertension, which can affect patient compliance with taking the medication. The purpose of the study was to determine metoprolol's ability to prevent these side effects. The study's conclusion was that not only did the the low dose of metoprolol diminish the side effects of sibutramine, but it also did not negatively effect the study subjects' metabolism.
This conclusion is important to those who take metoprolol and are on a weight-loss program because a slowing of the metabolism could potentially slow weight loss.
Effects
Sheldon G. Sheps, M.D., at the MayoClinic.com advises that some beta blockers, including metoprolol, may cause a slight weight gain in some people. Sheps explains that a weight gain of 3 to 4 lbs. is average for those who experience this side effect of the medication.
Sheps states that the weight gain usually happens during the first week of metoprolol therapy. If weight gain continues past the first week, or if you are taking the medication for treatment of heart failure and notice weight gain of more than 4 lbs., notify your health care provider
Discussing the overall side effects of metoprolol, Mayoclinic.com lists "unusual weight gain or loss" as a less common side effect and advises you to consult your health care provider if either of these conditions is noted.
Expert Insight II
The "American Journal of Medical Genetics" published a study titled "Body Weight Changes with Beta-blocker Use: Results from GEMINI" in its July 2007 edition. Study researchers determined patients taking metoprolol gained an average of 2.5 lbs. during the study period, with the greatest weight gains noted among those diagnosed with hypertension and those with diabetes who were not on insulin therapy.
Warning
Although the potential exists for a modest weight gain when taking metoprolol, you and your health care provider must consider the overall advantages of taking this beta blocker for your individual medical condition. Voice your concerns about potential or actual side effects with your health care provider.
Drugs.com advises that stopping your medication suddenly may worsen your condition.
Considerations
If you are overweight and have a condition for which metoprolol is prescribed, it is important to engage in a lifestyle that will benefit your overall health. Reducing calorie intake and increasing physical activity levels will aid in weight loss, which may be the underlying cause of some medical conditions. Consult your health care provider about lifestyle changes you are considering.