Electronic muscle stimulation, or EMS, prevents muscle atrophy. According to the American Council on Exercise, this technology delivers electronic impulses to the muscles through electrodes placed on the skin, and is effective as part of a rehabilitative physical therapy plan. In recent years, various companies marketed EMS devices for aesthetic purposes, claiming that by contracting muscles the devices effectively recreate a "workout." These products are not proven to be effective in weight loss or muscle toning, however.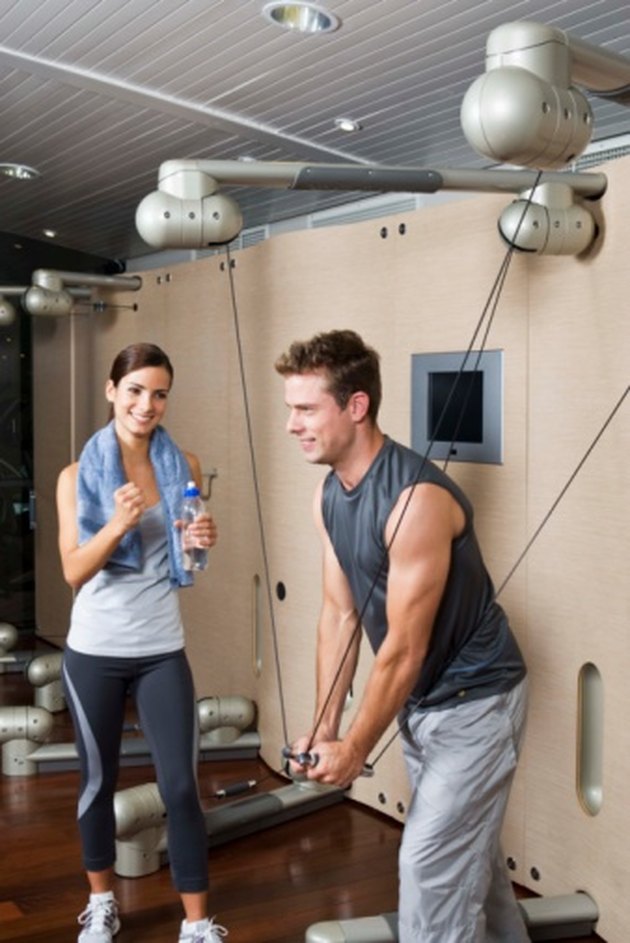 Features
EMS exercise equipment generally consists of an EMS unit that sends electrical impulses through conductive pads placed on different parts of the body. The American Council for Exercise states that there are various spot-specific products intended for abdominal muscles, buttocks and thighs. One of the more popular types of EMS toning products are abdominal toning belts, which conduct electricity to the ab muscles. According to the US Federal Trade Commission, or FTC, many of these products claim to provide "washboard abs" or reduce abdominal girth without exercise.
Complaints
The FTC has filed complaints against three of the more prominent makers of abdominal toning belts, citing various false claims made in relation to these belts. Among the claims challenged by FTC are those asserting that the belts cause fat loss and inch loss, provide abdominal muscle definition and are equal to or better than crunches or sit-ups. Some manufacturers made direct, quantifiable claims such as "lose four inches in 30 days guaranteed," "30 percent more effective than normal exercise," and "10 minutes equals 600 sit-ups." FTC reports that the companies falsely represented that these products eliminate cellulite.
Warning
The US Food and Drug Administration, or FDA, expressed its concerns over EMS toning devices. According to the FDA website, none of these devices have been approved for weight loss or reduction of girth. In addition, FDA warns that using an EMS toning belt that hasn't met FDA's safety requirements may cause shocks, burns, bruising, skin irritation or pain. Currently, FDA notes that Slendertone Flex has been cleared for use in muscle toning and strengthening. FDA notes, however, that no EMS device creates a significant change in appearance without diet and exercise.
Study
The American Council For Exercise cites a study it conducted on EMS toning equipment, which found this type of EMS technology to be "ineffective, time consuming, and at times, even painful." The study, led by John Porcari of the University of Wisconsin's Human Performance Lab, evaluated the effectiveness of the devices in 29 college-aged students. The subjects were measured for weight, body fat and muscles strength, and divided into control groups. After eight weeks, the EMS group demonstrated no significant improvements in body weight, percent of body fat, strength or appearance over the non-EMS control group.
Considerations
The FTC emphasizes that diet and exercise remain the most effective ways of eliminating fat. FTC cautions that while products like EMS toning devices may offer hope of easy weight loss and toning, they are unlikely to provide these results on their own. FTC urges healthy lifestyle changes to improve strength and appearance.