Popped using butter or coconut oil, AMC movie theaters' popcorn contains a high percentage of calories from fat. The Center for Science in the Public Interest, or CSPI, declared AMC one of the nominees for "Best Supporting Actor in the Obesity Epidemic."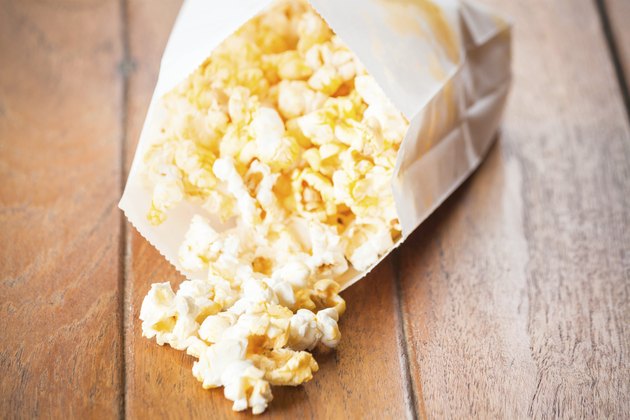 Serving Size
According to CSPI, a small serving of popcorn at AMC Theatres has about 6 cups of popcorn. A medium order contains 9 cups and a large bucket has about 16 cups of popcorn.
Calories and Sodium
A small bag of unbuttered popcorn from AMC contains about 370 calories and 210 mg of sodium, while a medium-sized serving has 590 calories and 330 mg of sodium. A large order of popcorn has 1,030 calories and 580 mg of sodium. Adding butter to your popcorn adds about 20 calories per cup.
Saturated Fat
With around 20 g of saturated fat per small bag, AMC popcorn accounts for your entire daily amount of saturated fat based on a 2,000-calorie diet. A large bag of popcorn contains nearly three days' worth of saturated fat, according to CSPI. The butter topping adds an additional 2 to 4 g of fat depending on the size of popcorn.