Although pushups burn a small number of calories, they're a strength-training exercise and not a cardio exercise. This means you aren't likely to burn enough calories to lose weight by doing pushups, although the muscle you build through doing this exercise may slightly increase your metabolism.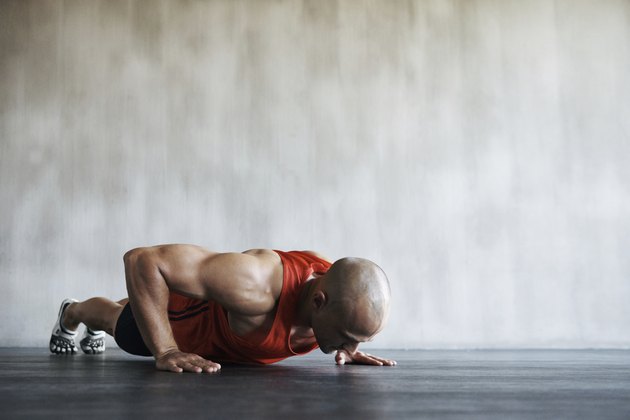 Calories Burned Doing Pushups
Unlike many types of calisthenics, pushups are hard enough to do that they're considered vigorous-intensity exercises. The number of calories burned by doing pushups will depend on how much you weigh, as it takes more energy to move a larger body. Thus, those weighing 125 pounds burn about 240 calories if they do 30 minutes of vigorous calisthenics, like pushups; a 155-pound person burns about 298 calories; and a 185-pound person burns about 355 calories. Most people aren't fit enough to be able to keep doing pushups for this length of time, although those who are could do numerous pushups in 30 minutes, so each pushup only burns just a few calories.
Strength Training and Weight Loss
Pushups shouldn't be your only strength-training exercise. Do at least two strength-training workouts per week, including about 10 different exercises targeting different muscles in your body, at roughly 10 repetitions per set. While strength-training exercises don't burn a lot of calories, they do help build muscle and help minimize the amount of muscle lost during weight loss. Without strength training, about one-fourth of the weight you lose will come from muscle instead of fat. You want to maintain as much muscle as possible, as it takes more calories to maintain muscle than fat, so building muscle increases your metabolism.
Add Cardio to Burn More Calories
People who want to lose weight may need to do as much as 300 minutes of moderate-intensity cardio per week, notes Drugs.com. This can burn a significant number of calories. For example, a 160-pound person who runs at a 5-mile-per-hour pace for an hour burns 606 calories. If that same person jumped rope for an hour, he would burn approximately 861 calories, while a more moderate exercise like a leisurely bike ride would burn about 292 calories per hour. Each pound of weight loss requires you to create a 3,500-calorie deficit, so you need to either eat 500 fewer calories daily or burn 500 more calories through exercise each day to lose weight at a rate of 1 pound per week.
Dietary Changes for Weight Loss
A high-protein, low-glycemic-index diet may help increase weight loss, according to a study published in the New England Journal of Medicine in 2010. The glycemic index measures how quickly foods increase blood sugar levels, so low-GI foods aren't likely to cause large spikes in blood sugar levels. These foods include those high in protein or fiber. Because all of these types of food slow the emptying of the stomach, they also tend to be particularly filling. Highly processed foods or foods cooked for a long time tend to be high-GI foods. A diet high in protein combined with strength-training exercises may also improve weight-loss results more than a diet with less protein, according to a study published in Diabetes Care in 2010. Limit high-fat and sugary foods, as these tend to provide a lot of calories without providing many nutrients and aren't usually very filling.